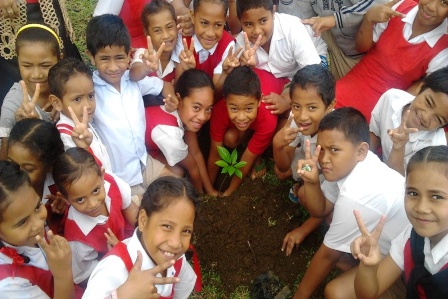 Our Story
The Children's Forest Program started in 2013. 
OISCA Alumni from Tonga returned home and served rural development by making the most of what they acquired in the OISCA training program. One of them is Mr. Finau, who completed a course at OISCA Shikoku Training Center in 2010. He started the Children's Forest Program in 2013. The CFP, critical education and training for Tongan children and youth as Mr. Finau advocates, involves the Forestry Department and parents of CFP schoolchildren. They choose indigenous and fruit trees to make lush forests. 
Encouraged by the success in Tonga, Mr. Toni, former trainee at OISCA Chubu Nippon Training Center, Japan, began the CFP in his hometown in Tongatabu Island, which is one hour flight away from the Tonga Islands. 
Project and Activity Report