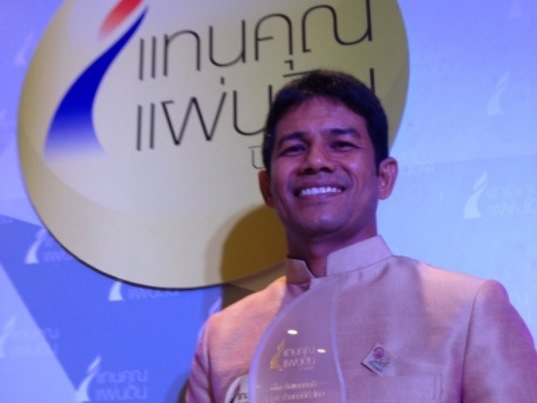 Aug 19, 2014
Mr. Khayai Thongnunui of OISCA Thailand was one of the recipients of the prestigious TanKhunPaenDin award, in recognition for his contribution to conserve and protect the environment of Ranong Province. Organized yearly by the government of Thailand, the awarding ceremony aims to recognize the 77 Thai nationals from the 77 different provinces who have made an exemplary contribution for the development and improvement of the country.
Since 1999, Mr. Khayai who is also a forest officer of the Mangrove Conservation Office in Ranong has been collaborating with OISCA and its counterparts to restore the former mangrove vegetation, which was damaged and cleared for shrimps and charcoal production aggravated by poor waste disposal.
Through the project, massive tree planting activities were conducted by the locals with the help of the visiting Japanese volunteers. Meanwhile, to further improve the project, stakeholders are involved in seminars and workshops often held in the OISCA Mangrove Center to emphasize among the participants their roles and responsibilities and so to discuss the issues and problems that need to be addressed.
For less than two decades, approximately 1,650hectares of mangrove forests were gradually restored and thereby helping in the increase of vegetation and improvement of the biodiversity of Ranong`s coastal area.
Gallery