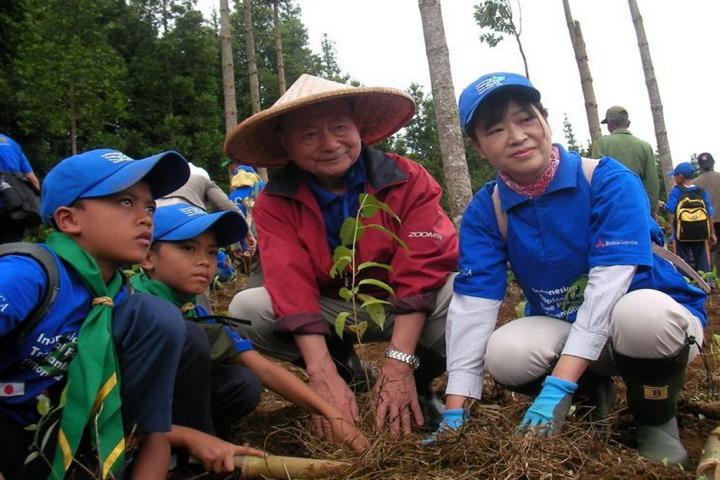 Jan 20, 2012
Dr. Akira Miyawaki, vegetation ecologist expert and Professor Emeritus of Yokohama National University graced the tree planting ceremony organized by Sukabumi Training Center and sponsored by Mitsubishi Corporation at OISCA's project site in Mt. Gede Pangrango National Park in West Java, Indonesia. The ceremony held on the 11th of January was attended by children and local people living near the national park, Mitsubishi Corporation representatives, staff and forest rangers of Mt. Gede Pangrango National Park and OISCA staff and trainees.
Over a period of five years starting in 2011, OISCA will be restoring the ten hectare area of Mt. Gede Pangrango National Park under Mitsubishi Corporation's Indonesian Tropical Forest Regeneration Experimental Project. Nine hectares of the project area will be planted with trees designated by the National Park staff and the remaining one hectare area will be restored using the planting method developed by Dr. Akira Miyawaki. Through Miyawaki Method, intensive planting of native species of trees is done to support and protect forest biodiversity as well as to reduce the threat of species invasion which damages the unique flora and fauna of the national park. Under the project, staff and forest rangers of the national park learn to implement more sustainable strategies to further protect Mount Gede Pangrango.
The Indonesian Tropical Forest Regeneration Experimental Project also includes the restoration of 40 hectares of land in Sukamaju Village, a community adjacent to Mt. Gede Pangrango National Park. Through the project, local residents are encouraged to interplant fruit bearing trees and coffee between the hardwood reforestation materials in order to improve their economic situations. In addition, the project scope includes repair for the irrigation drainage systems for local farmers and eco-camps to provide environmental education for children. In order to promote the participation of the younger residents, selected youths are trained at the Sukabumi Training Center so that they will gain a deeper understanding of the OISCA`s mission and primary goal of "Furusato Zukuri" or community building in Sukamaju Village, Kadudampit Subdistrict. Equipped with a sense of ownership and belonging towards their community, the youth trainees will be expected to take the lead and be the stewards of the project after the management is transferred to the community, thereby ensuring project sustainability.