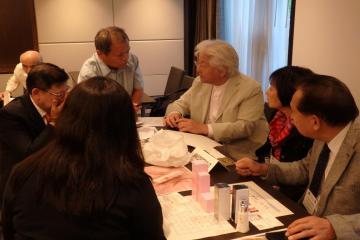 Jan 11, 2019
OISCA, in cooperation with the Philippine-Japan Economic Cooperation Committee (PHILJEC), held on December 6 and 7 business matching forum at the New World Hotel in Makati, Philippines. A total of 42 Japanese businessmen representing 30 small and medium-sized enterprises and about 80 Filipino business representatives participated in the forum to explore business opportunities and establish mutually beneficial partnership.
On the eve of the matching forum, welcome dinner was hosted for the business persons of both sides by the LANDBANK of the Philippines at its headquarters in Manila. To welcome the delegates, LANDBANK Musical Ensemble presented Christmas hymns and songs. Then, Mr. Alex V. Buenaventura, LANDBANK President and CEO, delivered welcome remarks. He introduced the LANDBANK as a government financial institution and the third largest bank in the Philippines and comprehensively explained the main business activities. Afterwards, Atty. Aniceto G. Saludo, Jr., Chairman of PHILJEC, addressed a message welcoming the participants. On behalf of the Japanese delegates, Mr. Toshihiro Nakano, Executive Vice President of OISCA International, made closing remarks expressing deep appreciation for the hospitality and expectations for fruitful business talks.
On the morning of Dec. 6, the business forum was formally opened by Atty. Aniceto G. Saludo,Jr. PHILJEC Chairman, with his welcome remarks. Mr. Makoto Iyori, Minister for Economic Affairs at the Embassy of Japan in the Philippines, extended greetings expressing strong hope that the forum would produce favorable results against the background of growing bilateral relations between Japan and the Philippines. As a resource speaker, Mr. Alex V. Buenaventura, LANDBANK President, took the floor again. He gave an overview of the Bank's programs for the different sectors: funding businesses, linking to supply chain to help small farmers, SMEs, cooperatives that produce quality products, Philippine-Japan Partnership, specifically HARVEST Program which was launched last August together with JICA, a 4.928 billion financing program to boost the agriculture sector in and around the Autonomous Region in Muslim Mindanao and conflict-affected areas in the region.
As the key note speaker, Dr. Ceferino S. Rodolfo, Undersecretary, Industry Development Group of the Department of Trade and Industry (DTI) and Vice Chairman and Managing Head of the Board of Investment, delivered a key note speech. He explained in detail the current policies of the Philippine government on foreign investments emphasizing that the government open-heartedly welcomes investments by Japanese small and medium-sized enterprises. Following his address, there was a question from the floor regarding the reported changes in the ongoing preferential tax incentives accorded to foreign companies operating in the country. Dr. Rodolfo replied that the government is seriously studying the tax reform issue taking full account of the concerns raised by the foreign companies.
After coffee break, there were three speeches by Japanese and Filipino business representatives. The first speaker was Ms. Tae Abe-Abion, a Japanese entrepreneur who has been living in the Philippines for 20 years. Together with her Filipino husband, she established Spice Worx Consultancy, Inc. in Manila in 2001. She is CEO and President of the company which offers various training program coordination, research projects, consulting and advisory and other business services for a wide range of clientele from Japanese and Philippine government agencies, industry associations, Filipino and Japanese enterprises as well as other foreign companies. She shared her long business experience in the Philippines and emphasized that in doing business in the Philippines, it is important to understand the work ethics, social customs and cultural values of the Filipinos which revolves primarily around tight family relations characterized by "Bayanihan" (mutual help), "Bahala Na" (whatever happens, happens, things will turn out fine") and Utang na loob ("debt of gratitude"). The second speaker was Mr. Raphael A. Limcaoco, Director, Manila International Freight Forwarders Inc. He talked about a Filipino-Japanese joint venture experience. Lastly, Mr. Takehiko Otani, President of Jushinkai Club Inc.,and one of the visiting Japanese businessmen,  expressed high expectations of doing business in the Philippines.
The afternoon session of the forum was devoted to one-on-one meetings of Japanese business persons with their Filipino counterparts to explore potential business opportunities and establish mutually beneficial partnership. The possible areas of business cooperation covered 11 fields such as information technology, education, manufacturing, food, agriculture, human resources, trading, energy, services, construction and real estate.
Mr. Shigenori Arai, who heads a software company in Tokyo said: I want to find a potential partner in making home pages and have met a few Filipino entrepreneurs". Messieurs Kan Katori and Kanta Fujimiya, executives of a company offering nursing care services said: We are seeking partnership with a company dispatching competent nursing care staff and got some offers."  Mr. William Chen representing a Philippine steel company in Pampanga expressed a strong interest in meeting a Japanese counterpart to promote business cooperation.
On the third day, Dec. 7, the Japanese business group went on one-day observation tour to Light Industry & Science Park I in Cabuyao, Laguna Province and Light Industry & Science Park III in Sto. Tomas, Batangas Province.
Science Park of the Philippines, established in 1989, is one of the country's pioneers and is now the leader in industrial park development. Since 1995, the company in partnership with Sojitz, a Japanese general trading company, has developed 6 industrial parks where a number of Japanese manufacturing companies are operating.
The tour group first got a general briefing by Mr. Jeronimo M. Salonga, Vice President for Marketing of Science Park of the Philippines, Inc. He outlined the salient features of the industrial parks and emphasized the merits of having manufacturing bases in the industrial parks which are designated d by the Philippine government as special economic zones with preferential tax incentives. In the subsequent Q & A session, a tour participant asked the stable supply of electricity in the industrial parks. Mr. Salonga admitted that the high cost of electricity is a major problem.
After having toured by bus around the different parks, the group visited three Japanese factories operating in Park III, Batangas: INATEC Corporation, Thermotech Co., and Tsuchiya Kogyo Phils. Inc.
INATECH Corporation, whose parent company is based in Nagano Prefecture, started operations in the Philippines in 2013. With 136 employees including 4 Japanese and 3 Chinese, it is now producing precision spring products used for digital machinery such as printers. Thermotech Co. which started operations in November 2016 is manufacturing plastic trays used for distribution and supplying the products to various Philippine manufacturing companies. Tsuchiya Kogyo Phils. Inc. employs about 350 Filipino workers and is producing various stickers pasted on the bodies of automobiles and motorcycles for Japanese manufacturers.
The managers of these companies all cited favorable location: the proximity to the Metro Manila, the presence of many Japanese manufacturing companies operating in the area, and the abundance of young working force as the major advantage of having manufacturing bases there.
Gallery