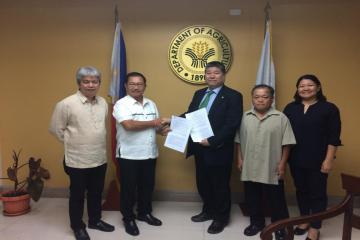 Mar 26, 2018
Key government Agencies and OISCA Philippines – the local office of Japan based International NGO, OISCA, agreed to continue their partnership in protecting the environment and in the implementation of the Philippine Government's reforestation programs through OISCA's Children's Forest Program.
The Department of Environment and Natural Resources (DENR), Department of Education (DepEd), Department of Agriculture (DA), Philippine National Volunteer Service Coordinating Agency (PNVSCA) and OISCA agreed to continue implementing OISCA's CFP – a program that aims to educate school children and the community about the environment through hands-on tree planting and other related environmental activities.
OISCA`s CFP is implemented in 36 countries worldwide. Mr. Yasuaki Nagaishi, Secretary-General of OISCA based in Tokyo, Japan represented OISCA Philippines in signing a Memorandum of Agreement (MOA) with the DENR, represented by Secretary Roy A. Cimatu, DA represented by Secretary Emmanuel F. Piñol, DepEd represented by Secretary Leonor F. Briones, and PNVSCA represented by Executive Director Joselito C. De Vera last March 16, 2018.
The MOA recognizes the potential of CFP in the protection of the environment in general, and in the implementation of the government's reforestation programs, including its promotion and awareness-building.  CFP encourages participation of children, teachers, parents and other members of the community.  Main component of CFP is the creation of mini forests in schools and communities.  Although the scale of the program at each school is relatively small, these are sure, steady and lasting efforts towards the preservation and conservation of sustainable nature. Children plant trees and each school helps to make the program successful. The planted trees are protected by the people and are unlikely to be cut because of the awareness developed in the participatory process of creating the forests.
OISCA Philippines, with the support of OISCA Tokyo Headquarters and in cooperation with the key government agencies has been implementing CFP since 1991.  CFP in the Philippines has planted almost 3 million trees and at least 1, 175 schools had participated in the program since it was first implemented.  The success of CFP in the Philippines would not have been successful without the participation of these key government agencies, OISCA supporters, OISCA Volunteers, and the thousands of school children, parents, teachers, and community members.
Gallery