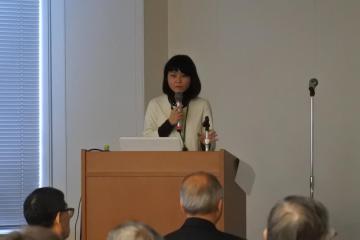 Mar 19, 2018
On March 12, 2018, the "Association of Japanese Diet Members Supporting OISCA International Activities" held an event to commemorate the 50th anniversary of its establishment at the First Members' Office Building of the House of Representatives in Tokyo.
The event consisting of two parts: the first part, a keynote lecture and projects presentations by OISCA staff, and the second part, a reception, was attended by 259 persons: Members of the National Diet belonging to the Association, leaders and staff of OISCA Headquarters and training centers, representatives from OISCA domestic chapters and branches, individual supporters of OISCA activities as well as Tokyo-based diplomats.
At the outset of the first part, Mr. Shigeru Ishiba, President of the Association of Japanese Diet Members Supporting OISCA International Activities, and Member of the House of Representatives, delivered an opening address. He briefly introduced the background of the Association. It was established in March 1967 in order to appreciate the international contributions of OISCA and to support and promote its activities. Since then, a number of Diet Members belonging to the Association have visited some 20 countries for on-site observation of different OISCA project sites. Currently, there are 69 Diet Members: 52 from the House of Representatives and 17 from the House of Councilors who are actively supporting OISCA activities.
Afterwards, Dr. Yoshimitsu Kobayashi, Chairman of "Keizai Doyukai" (Japan Association of Corporate Executives), and Chairman of Mitsubishi Chemical Holdings Corporation, delivered a substantive keynote lecture entitled "Business management coexisting with the earth". Dr. Kobayashi first talked about his personal experience as a young student in Israel and Italy where he studied physical chemistry and chemistry, respectively. Citing a statement made by an Israeli scientist at the World Economic Forum Annual Meeting which was held in January 2018 in Davos, Switzerland to the effect that in the future, one who controls data and AI would dominate the world, he stressed the importance of coping with globalization, digitalization and socialization by Japanese private corporations so as to ensure survival.
Dr. Toshio Watanabe, President of OISCA Japan, got the floor to make brief remarks. He said that Japanese ODA started in the 1960s. At that time, activities of private organizations and groups for international cooperation such as OISCA were also launched, and the government and Diet Members started supporting these private initiatives. This year, OISCA celebrates the 57th anniversary of its establishment. He expressed deep appreciation to the Diet Members' Association for their strong support.
Meanwhile, Mr. Hiroyuki Cho, Director for Overseas Projects, International Cooperation Division, delivered a summary report on the on-going overseas projects and human resources development. Ms. Swe Swe Myint, an agricultural trainee from Myanmar who has just completed a 11-months training course at OISCA Nishi Nippon Training Center, presented an action plan for growing grapes which she intends to carry out after going back to her home country. Ms. Junko Nagano, Project Manager of Domestic Campaign Division reported on the 10 environment conservation projects carried out in Japan in collaboration with private companies and organizations. On his part, Mr. Shota Kobayashi, Advisor, Division for Domestic Operations, who was formerly Editorial Writer of the Nihon Keizai Shimbun (The Japan Economic Journal), made an overview report on the 10-year Coastal Forest Restoration Project which has been under way in the tsunami disaster-hit Natori City, Miyagi Prefecture.
Later in the evening, a reception took place at the multi-purpose hall of the House of Representative Members' Office Building. In addition to the participants of the first part, many Diet Members and about 13 representatives from foreign diplomatic missions in Tokyo including 6 Ambassadors (Bangladesh, Cambodia, Indonesia, Malaysia, Myanmar and Paraguay) attended the social functions. Mr. Kazuyuki Nakane, State Minister for Foreign Affairs, and Yousuke Isozaki, State Minister of Agriculture, Forestry and Fisheries, respectively delivered congratulatory messages.
Gallery