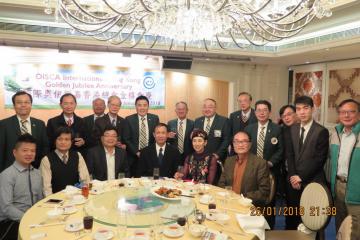 Feb 22, 2018
On the 26th of January, OISCA International Hong Kong celebrated its 55th Anniversary at Mong Kok, Kowloon. It was attended by 80 local and international participants, including Mr. Sugahara, the VIP guest from Japan and the students of OISCA Senior High School. The members and friends from Yuen Long Town Hall, Y's Men International, Hong Kong Polytechnic University-HKCC teachers and environmental NGO staff were also present to celebrate the event.
In recognition to their extensive contribution to OISCA movement, awards were presented to the outstanding members. Meanwhile, Mr. James Kong, the Chairman of OISCA Hong Kong presented among the members the Chapter`s Annual Report of Activities for 2016-2017. As selected members shared testimonies of their involvement to the OISCA mission, it was a good opportunity among the members to interact and exchange of ideas on how to improve the activities in Hong Kong.
OISCA Hong Kong with 25 members and 36 associate members has been working at the grass root level for more than 50 years. Focusing in educating and involving the children in environmental conservation and protection, the members are confident that they are contributing in building a better society. This in collaboration with OISCA network, the other organizations and associations as well as personal friends.
Gallery