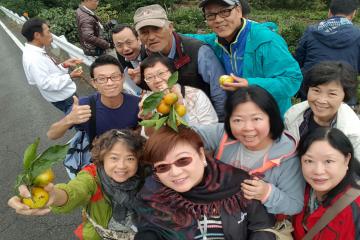 Nov 20, 2017
The 1st Kagawa Prefecture Organic Agricultural Research Tour from October 16-21, 2017 was organized and joined by 15 participants comprising the members from the Woody Garden, Surein Farm and OISCA Hong Kong.
OISCA Hong Kong Chapter organized the 6-day tour to educate the participants on the Japanese agricultural technology especially in producing, managing and marketing organic vegetables through their visit in organic farms, Tea Associations, fruit tree test plant, citizen farms and vegetable markets.
The group also visited and observed the activities of OISCA Shikoku Training Center on October 16. They were surprised of how the trainees from the developing countries managed to cooperate with each other despite the differences in ethnicity, religion and language.
Meanwhile, as they participated at OISCA Shikoku Training Center`s 50th Anniversary along with the other 500 participants, they experienced the warmth of OISCA family spirit and gained a deeper understanding of OISCA`s mission.
Incidentally, Hong Kong`s (香港) and Kagawa Prefecture`s (香川) share the same first Chinese character. In the near future, the members of the group are hoping to have much deeper relationship with the Prefecture which will be developed through mutual cultural exchange.
Gallery