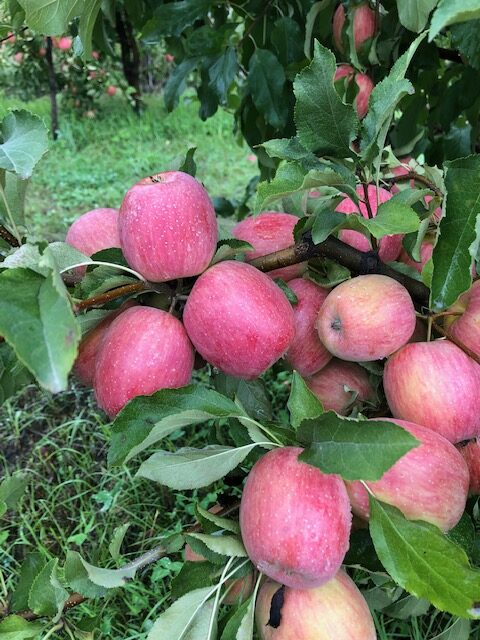 In March 2006, OISCA Members from Japan visited Azerbaijan. One of the members was Mr. Sakurai, a renowned expert in cultivating apples and peaches in his hometown in Yamanashi Prefecture, Japan. At the invitation by OISCA Azerbaijan Chapter, Mr. Sakurai and other members visited Nugadi Village, Guba, North-eastern Azerbaijan, to introduce a new apple variety to fruit growers in the village. The apple variety was easy to grow, but the fruit was rich in taste and a little smaller in size than other ordinary types – just appropriate to eat an apple whole, according to Mr. Sakurai. The villagers started to call it Sakurai Apple.
This new apple variety became popular countrywide as several TV programs (ITV, LIDER TV, Space TV) featured Sakurai Apple and the first gardener who grew it.
After 15 years, Sakurai Apple now grows not just in one garden in Nugadi village; horticulturists in Guba, Khachmaz, Qusar, Sabirabad, and other regions enthusiastically plant this variety in their gardens. Even big companies have started to cultivate Sakurai Apple in their extensive gardens. On average, a Sakurai Apple grower harvests 25 tons from one hectare in a season.
Sakurai apples sell well at a higher price than other varieties; one kg about 2.0 – 2.20 AZN, which means a huge profit. A horticulturist earn about 50,000 AZN equivalent to about 30,000 US $.
Mr. Elchin Nasirli, President, OISCA Azerbaijan Chapter, says with great confidence that the number of farmers growing Sakurai apples and their incomes will further increase very soon. When Sakurai apples were new to the Azerbaijani market, the first buyers and advertisers were OISCA members. They presented Sakurai to guests of honors at official and informal meetings.