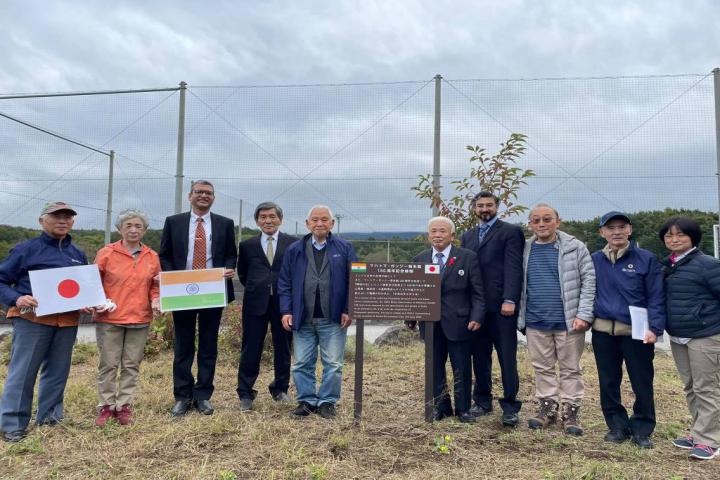 Oct 25, 2021

On October 18, Mr. Mayank Joshi, Deputy Chief of Mission, Indian Embassy and Prof. Siddharth Singh, Director, Vivekananda Cultural Centre, visited OISCA Reforestation Project sites located at 1,600-meter above sea level on Mt. Fuji, part of the UNESCO's World Cultural Heritage. They inspected the sites where tree planting was conducted on June 5, 2019 with 150 seedlings including Japanese maples, wild cherry, beech, oak and alder, donated by the Indian Embassy to commemorate the 150th birth anniversary of Mahatma Gandhi, the great Indian leader of the national independence through nonviolent civil disobedience
At the site, Mr. Kanemaru Shingo, Chairman of OISCA Yamanashi and Ms. Tanaka Mitsue, Secretary General, OISCA Yamanashi, welcomed the Embassy group. From the OISCA Headquarters, Mr. Nakano Toshihiro, Executive Vice President, OISCA International, and other senior officials accompanied the visiting party.
The Indian Embassy officials were delighted to observe the trees planted two years ago were in healthy condition and growing steadily. Later, they paid a courtesy call on Mr. Masaru Kobayashi, Mayor of Narusawa Village, which actively participated in the tree planting. Mr. Mayank Joshi expressed gratitude for cooperation to Narusawa Village and OISCA. At the commemorative tree planting site, Prof. Singh offered Sanskrit prayers for peace and healthy growth of the trees.