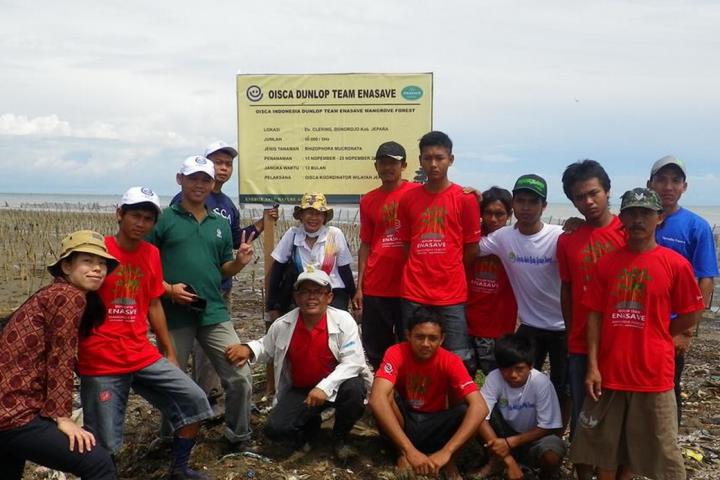 Jan 31, 2012
Approximately 44,700 Rhizophora mucronata propagules and about 6,000 seeds of Avicenia marina were planted by 18 members of the project`s planting group.  They were joined by a teacher and 25 grades five and six students of MI Nurul Huda Clering (Nurul Huda Islamic School) in the site OISCA sponsored by Dunlop Team Enasave in Clering Village, Donorojo District, Jepara Regency.
The activity is part of the project to empower the residents of Clering Village through the restoration of the former mangrove ecosystem damaged due to the unsustainable fish farming method of the villagers. The project is currently implemented in cooperation with the local counterparts including the members of Clering Village Administration, Donorojo District Administration, Jepara Regency Administration, Office of Fisheries and Marine Affairs and Office of Forestry Plantations.
Prior to the planting activities, the 18 core members of the Clering Village planting group underwent into a hands-on intensive training workshop under the OISCA Mangrove Program in Pemalang Regency in Central Java. Acquisition of knowledge in mangrove management ecosystem and environment-friendly fishpond farming through silvofishery system by the participants were made possible after the three-day training.
Nets have been installed around the planting site to protect the newly planted mangrove propagules from being clogged by floating garbage brought by strong waves and sea current. The nets minimize the impact of waves therefore preventing the occurrence of propagules from being uprooted and washed out.  The installed nets also contribute in the decrease of mortality of mangrove as it prohibits the boats of the fishermen from entering the planting site to dock on the nearest shore.
With an area of 2,366.8 hectares, Clering Village is inhabited by 1,725 families who will benefit directly or indirectly from the project. Clering Village, like the other villages where OISCA operates in Indonesia is targeted to be developed sustainably in a manner that the residents will learn the importance of environmental conservation and their individual responsibilities to the project.
OISCA mangrove coordinators are organizing environmental education activities to the locals of Clering Village. It is imparted to the children through games and actual involvement in the planting activities. Selected youths undergo agricultural training in OISCA Sukabumi Training Center and are expected to take the lead in the community development and conservation efforts of OISCA right after graduating from the training course.
Dunlop Team Enasave is also supporting the mangrove activity of OISCA in Thailand.