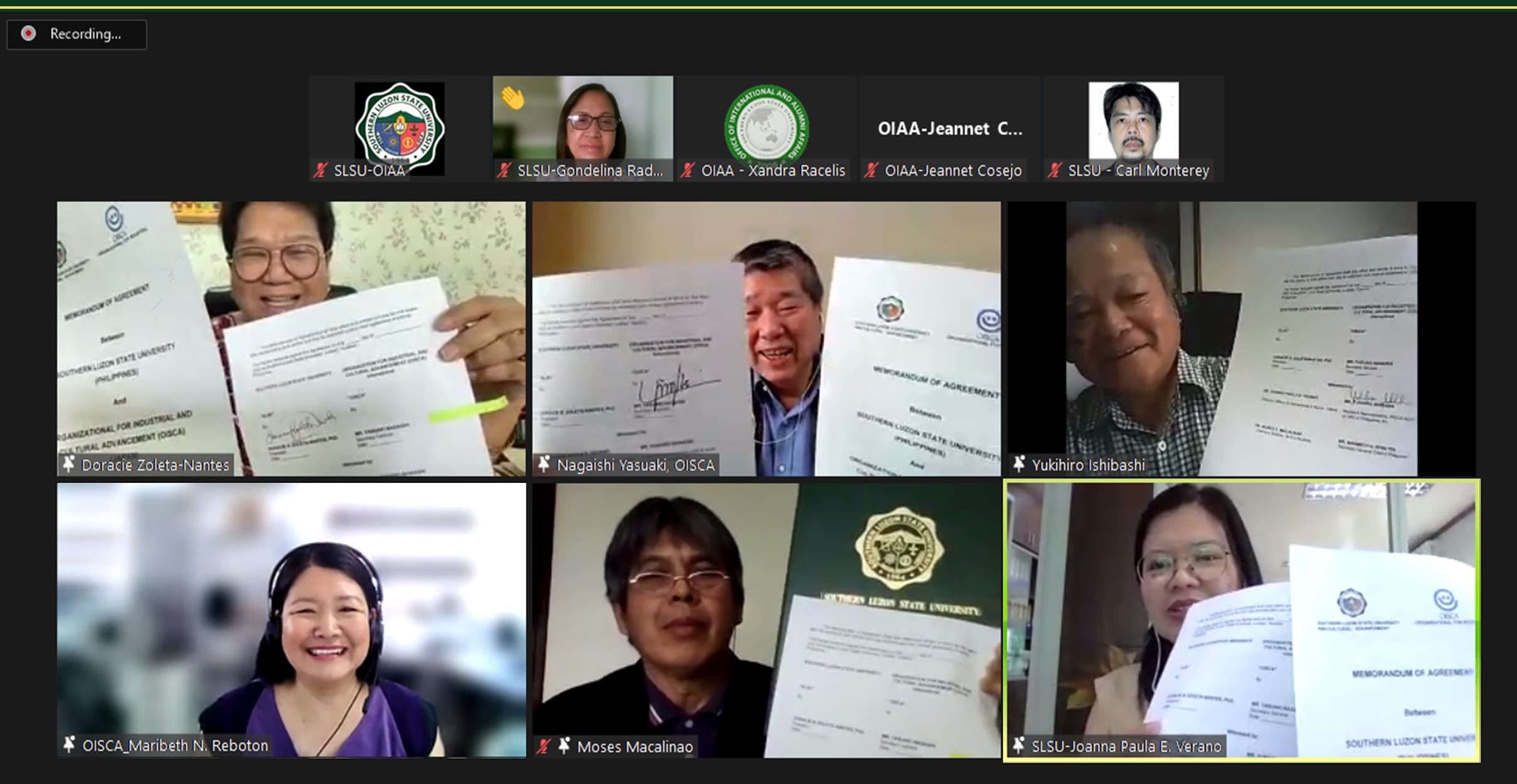 February 15, 2022

Southern Luzon State University(SLSU), being on the same page with OISCA on sustainable development goals specifically on reducing poverty and ensuring environmental sustainability through quality education, training, and values, established a partnership. A ceremonial signing of the Memorandum of Agreement via zoom was held on February 15, 2022, attended by officials of both parties- SLSU President Dr. Doracie B. Zoleta-Nantes, Vice-President for Academic Affairs Director Dr. Joanna Paula E. Verano, SLSU-Tayabas Campus Director Dr. Moses T. Macalinao, and College of Agriculture faculty Dr. Carl Monterey, and OISCA Secretary-General Mr. Yasuaki Nagaishi, resident representative of OISCA Japan to OISCA Philippines Mr. Yukihiro Ishibashi and Ms. Maribeth N. Reboton.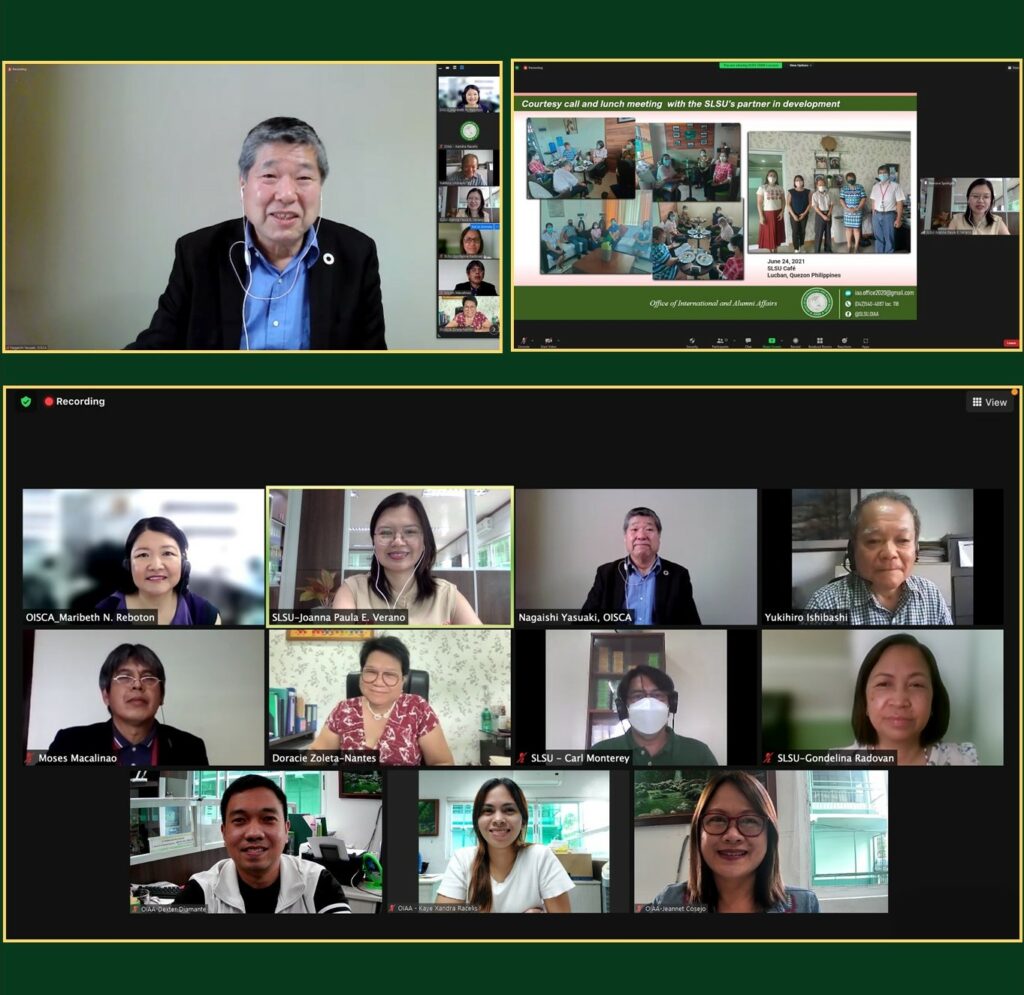 Through the partnership, Children's forest Program, agricultural training programs for the youth and the young farmers, cultural social and spiritual exchange programs, recommending SLSU graduates for technical intern training in Japan, and providing personnel and technical cooperation in facilitating the partnership, will be implemented. The message of commitment and appreciation expressed by the officials of both parties had been even more meaningful when opportunities for the further development of human resources and upholding environmental sustainability toward integrated ecosystem sustainability were identified.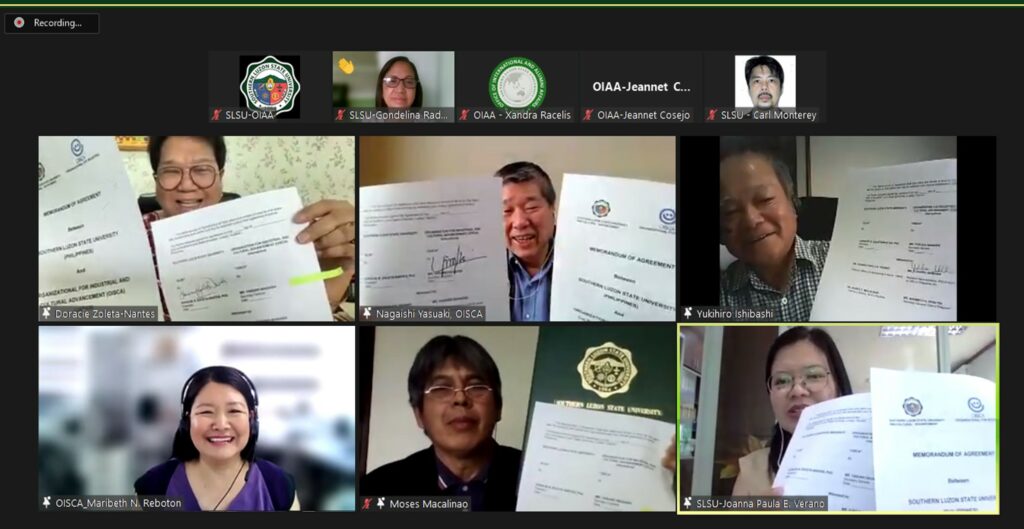 On the other hand, previous engagement of the university with OISCA which has benefitted SLSU students and alumni was presented by Dr. Macalinao as he served as the focal person with OISCA. SLSU is privileged to be cooperating with OISCA on its dynamic program and projects. This partnership which will be outstanding for five years will bring many opportunities to the faculty, students, and alumni of the College of Agriculture and to other members of the university community.