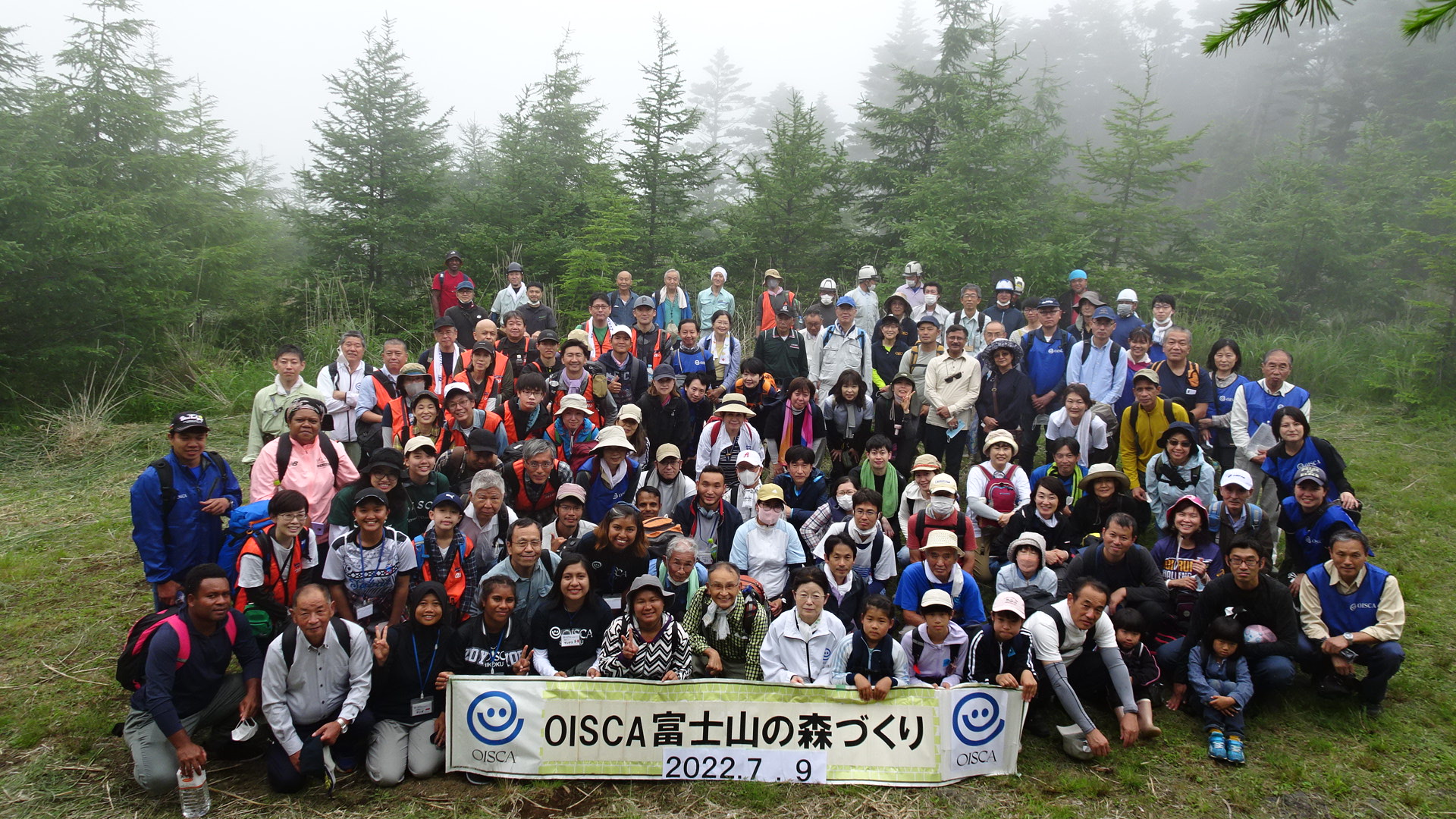 On July 9(Saturday), OISCA organized in collaboration with other stakeholders of the Mt. Fuji Reforestation Council, the activity of maintaining the reforestation project on Mt. Fuji. The event was participated by about 130 people including Tokyo-based foreign diplomats, OISCA members from the Shizuoka Branch, and Fukushima Branch, foreign trainees from OISCA Chubu and Shikoku Training Centers, and staff of private corporations supporting the project, Yamanashi Prefectural government officials and professional forestry workers.
The traditional event was held for the first in 2 years. The last year and the year before last, it was canceled due to the widespread COVID-19 pandemic.
Started in 2007 in collaboration with more than 25 different stakeholders, the project aims to improve the biodiversity of the 100-hectare site using local species of trees, including Japanese maple, beech, Japanese oak, wild cherry trees, and Japanese alder. Before the project originally started, the area was solely planted with Veitch fur locally known as shareable, the project site was badly damaged by a moth infestation.
In the opening ceremony held at the Fujiten Snow Resort, Ms. Estuko Nakano, President of OISCA, welcomed all the participants and stated that it was very important to work all together for maintaining the biodiversity of Mt. Fuji. After doing light exercises, the participants were divided into 10 groups and moved by chartered buses up to the project site located at an altitude of 1,600-meter above the sea.
At the site, the participants were guided by professional forestry workers on how to replace the old bamboo poles and nets with new ones for protecting the growing trees planted about 10 years ago from wild deer. They worked hard to replace on average about 7 to 8 poles and nets
In the closing ceremony, Mr. Katsumi Sano, Secretary General of the OISCA Yamanashi Branch, thanked all the participants for their cooperation with the maintenance work and looked to meeting again in next year's event. Representing the diplomatic corps, H. E. Mr. Sanjay Kumar Verma, Ambassador of India, stated his deep appreciation for the opportunity to join the long-running reforestation work. Then, Mr. Yasuo Nakazato, General Manager, General Administration Dvision of KDDI CORPORATION, Ms. Akemi Nemoto, Secretariat of OISCA Fukushima and the Malaysian trainees from OISCA Shikoku Training Center, respectively made brief remarks sharing their impressions on being part of the unfamiliar fieldwork.