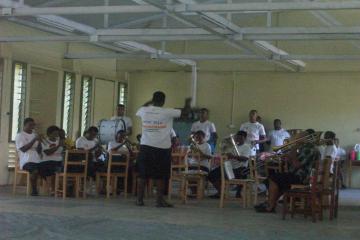 Jul 14, 2014
OISCA Fiji has been tremendously assisted in the past years by donation and gift by the people of Japan. Since it is a non profitable organization, community development programs and project are being successfully supported by the donation and charity fund from OISCA supporters in Japan.
On the 27th of June, the OISCA Fiji Office received another donation and gifts from Mr. Etsuro Miyazawa who has been supporting OISCA Fiji since 2003. His assistance until now was varied from agriculture machinery tools, school stationeries for elementary school, music tools and 4 vehicles etc..
A courtesy call was made to the Prime Minister's Office where Mr. Miyazawa and friends met with the Permanent Secretary an opportunity to discuss good relation between Japan and Fiji. Mr. Pio Tikoduadua, Permanent Secretary of Prime Minister's Office in Fiji showed his appreciation of their warm support from Japan and OISCA's commitment and involvement for more than past 20 years, especially of its grass roots lever approach to community, youth development and environmental conservation action.
Supporters from Japan also visited to the National Youth Band where Mr. Miyazawa and friend meet with the Fiji Youth Band. Since Mr. Miyazawa is a musician himself, they played together some songs and have good exchange with Fiji youths.
Gallery