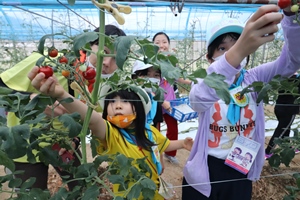 August 15, 2022
From August 11 to 15, 2022, summer school organized by Public Interest Incorporated Foundation:SYD (Supporting Your Dreams), was held at OISCA Chubu-Nippon Training Center, Japan. Elementary school children together with high school and college student leaders who are caretakers, participated and enjoyed playing in the swimming pool, splitting watermelons, and campfires utilizing the center's facilities.

OISCA was responsible for providing facilities and operational support. The participating children were guided by OISCA staff to the poultry farm, where they each chose an egg to take back to the center and taste it over rice for breakfast.

Unfortunately, from the standpoint of OVID-19 infection control, the summer school participants had to avoid contact with foreign trainees and technical intern trainees as much as possible, so the children were not able to fully interact with them, but the trainees were able to take part in some of the programs. At the specially set up Nagashi Somen (lowing fine white noodles) place, which was made of thick bamboo, the laughter of the foreign trainees echoed as they tried their best to grab the Somen and mini-tomatoes grown at the center with chopsticks they were not accustomed to using.

During the summer school,children were divided into eight groups and conducted their activities in a disciplined manner under the guidance of their leaders. On the last night of the program, there were some children who were sad to say goodbye to friends they had become close with through their constant activities, and some were even shedding tears. The children were not only asked to create fun summer memories, but also to learn to be punctual and tidy in their group life, to ge rid of food likes and dislikes, and to be self-disciplined in many other situations.

The OISCA staff in chage of accepting the children said, "I think we were able to provide them with an opportunity for growth that was different from their fome life" and watched the children do their best.