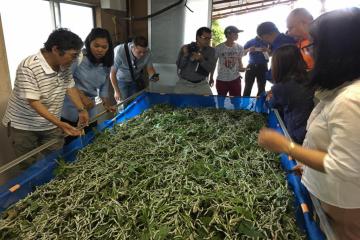 Jun 17, 2019
From June 6 to June 12, delegates from the Philippines visited Japan for on-site observations of various facilities related to sericulture. The delegation comprised 9 officials from the central government organizations such as the Department Trade and Industry (DTI), the Philippine Fiber Industry Development Agency (FIDA) and the Philippine Textile Research Institute (PTRI), and local government agencies in Northern Luzon, Visayas, and Mindanao Region.
The group conducted on-site observations at the Institute of Sericulture in Ami-Cho, Ibaraki Prefecture, Silk Science Research Institute, OISCA Headquarters, and the Philippine Embassy in Tokyo, and Komagane Silk Museum in Nagano Prefecture, and a sericulture farm in Yamanashi Prefecture.
Asked about concrete results of the observation tour in Japan, one of the FIDA officials said: "the visits were fruitful and stimulating because we were exposed to the modern sericulture technology of Japan. After going back home, I will definitely try to fulfil my responsibility as a government official directly in charge of sericulture development. Of course, we can't change the situation overnight, but we will explain what we have learned here to our sericulture farmers and other stakeholders."
In cooperation with the Philippine government, OISCA has launched a project to expand and promote sericulture nationwide utilizing the Japanese Government Grant Assistance for Japanese NGO Projects. The visit of the delegation is the first part of the sericulture development project and is aimed at promoting the understanding and skills of the government officials playing a leading role in the national and local government agencies.
OISCA started the development of sericulture in 1995 in Negros Occidental for the purpose of alleviating the plight of the local marginal farmers who were dependent on the sugar monoculture. The project, spearheaded by the OISCA Bago Training Center provides income for about 200 local farmers engaged in sericulture and related activities such as taking care of mulberry fields, the production of cocoons and weaving. Currently, OISCA Bago produces 1.5 tons of silk yarn annually accounting for 90% of the country's total production.
Gallery