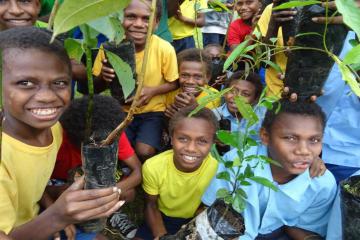 May 23, 2019
From May 27 to June 6, OISCA will invite to Japan a total of 8 persons, 4 school children and 4 coordinators each from Papua New Guinea and Sri Lanka under the Children's Forest Program (CFP).
While in Japan, they will visit OISCA Nishi Nippon Training Center to experience exchange program through rice planting and will have presentation sessions on their CFP activities at different schools in Fukuoka, Saga and Nagasaki Prefecture. They are also expected to participate in the Green Wave Student Forum in Asakura City, Fukuoka Prefecture.
Then, the visiting group will move to Miyagi Prefecture for an observation tour at the site of the OISCA Coastal Forest Restoration Project in Natori City. They will also visit the former Arahama Elementary School in Sendai City which was devastated by the Tsunami disaster in the wake of the Great East Japan Earthquake of March 2011 and will take part in the activity presentation meeting of the OISCA Miyagi Branch.
The Children's Forest Program (CFP) started in 1991 for helping the forest development of children worldwide and supporting environmental education and the development of sustainable society. As of March 2018, CFP is carried out at a total of 5,080 schools at 36 different countries and areas of the world.
The first CFP Children's Goodwill Ambassadors visited Japan in the 1990s. So far, multiple children from Fiji, Indonesia, India, Malaysia, Mongolia, Myanmar, Papua New Guinea, the Philippines, Sri Lanka and Thailand have visited Japan for inspecting various facilities related to environmental conservation, exchange programs with Japanese school children and learning the Japanese culture.
Gallery