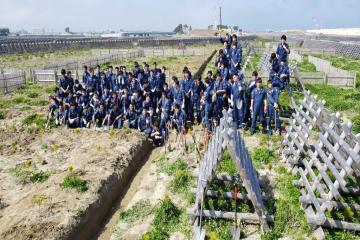 May 28, 2019
On May 16, 2019, a total of 86 volunteer group, 84 students and 4 instructors, from KADAN College of Automotive Technology, a technical school for training auto mechanics in Sendai, ventured in the field work at the site of the Coastal Forest Restoration Project in Natori, Miyagi Prefecture.
It was the largest ever number of volunteers from a single organization who conducted the field work in Natori. The all-male volunteers in the early twenties were wearing the same work clothes with school logo. On the surface, they all looked strong and energetic. As they actually started in digging canals at the 2018 planting site, they realized how hard it was to dig with shovels.
One of the students confessed: "usually, I am not used to this kind of hard labor. It's really tough and tiring." Under the guidance of two professional forest workers, however, they managed to dig 150-meter long canal in a few hours. With the site`s poor water drainage, digging of canals is crucial to the survival of the planted seedlings.
 Along with the auto mechanics students, Ms. Nur Bari'Ah Binti Batrullah ("Noi"), a Malaysian trainee who came for the Japanese language training since last August at OISCA Chubu Nippon Training Center, joined in the field work. She carried out weeding work at the planting site under the scorching sun. She later said, "normally I don't engage in agroforestry work. So, it was very tough, but it was a good experience to me."
Gallery