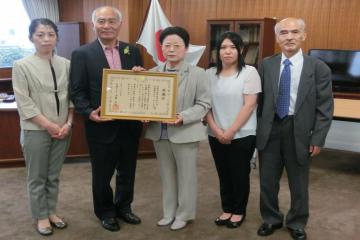 Jul 13, 2018
On July 5, OISCA and the Association for Coastal Forest Restoration Project in Natori City, together with 19 other civic organizations and groups were commended by Mr. Masayoshi Yoshino, Minister for Reconstruction, for the outstanding contribution to the reconstruction efforts from the earthquake and tsunami disaster which inflicted devastating damage to the Pacific coastal areas of the Northern Japan in March 2011. The certificate of commendation was handed over by the Minister to Ms. Etsuko Nakano, President, OISCA Japan, at the conferment ceremony held at the Reconstruction Agency in Tokyo.
The Reconstruction Agency is the principal agency of the Japanese government tasked with the reconstruction process following the 2011 Great East Japan Earthquake. Its main role is to promote structural reconstruction and revitalization in the disaster-affected areas by supporting implementation of government policies and managing coordination of reconstruction strategy and initiatives among various branches of national and local governments.
It has been 7 years since OISCA and the Association for Coastal Forest Restoration, a group comprising disaster-hit local farmers, started carrying out 10-year project for the restoration of seashore forests at the coastal area in Natori City, Miyagi Prefecture. As of May, 2018, a total of 349,000 seedlings of black pine and other species have been planted over 66.71 hectares of land. The total number of persons employed so far in the project has reached 6,087 persons.
The OISCA project has been highly evaluated particularly for its employment generating effect in the affected area now under reconstruction. In the informal session after the conferment ceremony, Minister Yoshino, Member of the House of Representatives from the disaster-hit Iwaki City, Fukushima Prefecture, whose own house in his hometown was also badly destroyed by the disaster, praised the OISCA's project as greatly inspiring the local residents struggling to recover from the calamity.
Last February, Mr. Toru Doi, State Minister for Reconstruction, and 4 other high-ranking officials of the Reconstruction Agency paid a visit on an observation tour to the OISCA project site in Natori and made positive comments to the effect that the systematically implemented activities would help guarantee project viability and sustainability.
Gallery