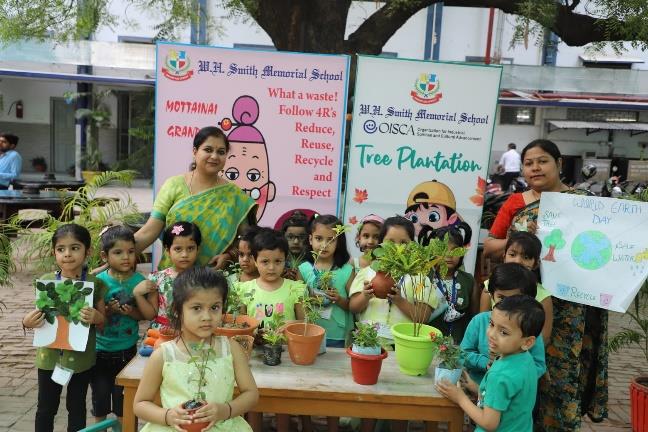 21 – 24 APRIL, 2023
AT – W.H. SMITH MEMORIAL SCHOOL, VARANASI, INDIA (CFP SCHOOL)
Earth Day is celebrated around the world with a beautiful message 'Our continuing efforts in our everyday lives will make this beautiful planet thrive'. Earth Day is a proof that one person can make a global impact in a positive way. Echoing the same W.H Smith Memorial School celebrated the World Earth Day through a series of activities from 21st April 2023 to 24th April 2023. The students were reminded of simple doable actions towards safe Mother Earth.
[Our Environment Conservationist from the Primary Section from classes LN (Lower Nursery) to 4 contributed by doing various activities to create awareness and positive impact. The students learnt the importance of Earth Day and the need to conserve and preserve their self-sustaining planet].
Students of classes Lower Nursery and Upper Nursery celebrated GREEN DAY with full zeal and enthusiasm. They were dressed in green colour to spread the message of conservation and preservation of Mother Earth and taking action before it's too late.
Students of classes 1 and 2 made amazing creative products like paper box, bird-feeders, pen holders, paper dolls in beautiful dresses and learnt the art of turning 'TRASH INTO TREASURE'.
Students of Classes 3 and 4 were guided by the teachers to plant saplings and know the importance of Tree Plantation and its beneficial effect on the environment. This activity is very important if future generations want to enjoy Mother Earth's resources and privileges.
Students of classes 3 and 4 also took pledge on Water Conservation that highlighted the importance of conserving the resources for future generations. The students participated in these activities with great zeal and enthusiasm showcasing their artistic and creative skills.
The soft boards of the school were decorated with thoughtful and creative messages to bring awareness among the students about the importance of saving environment and to respect Mother Nature with all their heart and soul. Teachers added finishing touch by addressing the students and emphasizing upon the importance of afforestation, planting of trees and the need for everyone to put together their efforts and get into action in protecting the environment.