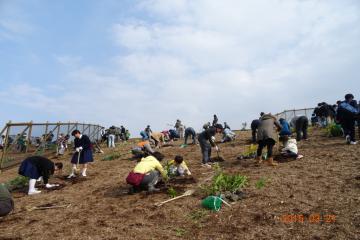 Mar 26, 2015
On March 21, Spring Equinox Day, OISCA played an active role in organizing an event to mark the International Day of Forests 2015 at the Umi-no-Mori (Sea Forest) Tokyo Bay area which is expected to be one of the sites for the 2020 Tokyo Olympics.
In the event which was co-sponsored by the National Land Afforestation Promotion Organization, the Forest Culture Association, NPO Forests and Environment Network Association, and the Forestry Agency, Ministry of Agriculture, Forestry and Fisheries, about 510 participants including representatives from the Foreign Embassies and international organizations based in Japan, foreign students studying in Japan, Japanese junior high school students, children and their parents, took part.  Also four Japanese beautiful young ladies, the winners of the various beauty contests joined to grace the celebration.
At the beginning of the celebration, there were speeches by the delegates of the sponsoring organizations followed by a mini concert. The Japanese and foreign students and a music group presented a number of songs on the stage to entertain the participants. Following the ceremony, the participants moved to the tree planting site, a reclaimed land from the former garbage dumping site, and planted 2,500 seedlings of different species under the guidance of instructors.
Two young girls among the participants commented: "it was our first experience to plant trees with our own hands. We enjoyed it very much. We want to come back here in the future to see the growth of the trees we have planted".
Representing the diplomatic corps, H.E. Ambassador Ritter N. Diaz of the Panamanian Embassy in Japan stated: "I highly appreciate the organizers who gave us this valuable opportunity to experience tree planting with the young and senior Japanese and foreign participants. It is our pleasure to contribute to greening of the earth".
OISCA has also organized similar events to commemorate the International Day of Forests 2015 in foreign countries including Indonesia.
Gallery