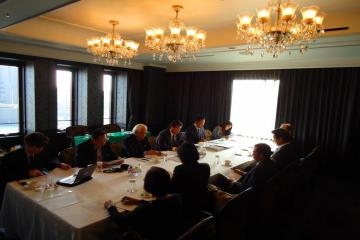 Apr 7, 2014
The first OISCA International Finance Committee Meeting was held at Kumamoto Castle Hotel in Kumamoto, Japan on the 27th of March 2014. Organized in October 12, during the 2013 OISCA International Board of Directors Meeting, the establishment of the committee aims to strengthen the financial structure of OISCA International.
In the presence of the committee members including Mr. Yunoshin Kuroda (OISCA Hong Kong), Mr. Toshihiro Nakano (Chairman, OISCA Japan), Mr. Yasuaki Nagaishi (Secretary-General, OISCA International), Mr. Toshio Kuriya (Vice-President, OISCA Kumamoto) and Mr. Koji Yamada (Secretary-General, OISCA Kumamoto); Datuk Ibrahim bin Ahmad of OISCA Malaysia was elected as the Chairperson while Mr. Fuminori Marumoto (President, OISCA Kumamoto) and Governor Alfredo Maranon, Jr. (President, OISCA Philippines) were elected as the Vice-Chairpersons.
"The OISCA Training Centers should be utilized not only for training but for different management programs and activities that could help in raising funds", was the statement of Chairperson Datuk Ibrahim during the discussion about the agenda of improving the future activities of OISCA International.
During the meeting, Mr. Nagaishi announced the plan of holding the next International Board Meeting in Toyota City in January 2015 in line with the "International Conference on the Environment of Advanced Cities" With a theme of Technology, Innovation and Mobility; the conference will be sponsored by Toyota City in collaboration with OISCA International and the United Nations.
Meanwhile, Mr. Yamada proposed the need of OISCA International`s constant participation to the Fair Trade campaign to promote the products made by the members of OISCA network and would help in raising funds for future activities.
Gallery