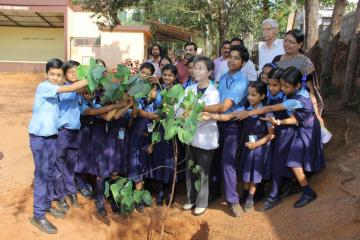 Dec 16, 2013
OISCA South India Chapter organized a "Furusato Convention" on the 5th of December, at Malabar Palace, Kozhikode attended by 500 chapter members and graced by OISCA International President, Dr. Yoshiko Y. Nakano and other staff of OISCA Tokyo Headquarters.
During the convention, Dr. Nakano was conferred with the title "Haritha Ratna"  the "Jewel of Greenery" for her three decades of dynamic leadership and initiative to energize and ignite the youth for the environment protection and youth development activities.
Mr. Aravind Babu, Director and Secretary General of South India presented the Award, Mrs. C.A. Latha IAS, the Honorable District Collector, former Presidents Mr. P.V. Gangadharan and Mr. K.T. Raghunath were among the important dignitaries present. Mr.K.P. Aboobacker, Mr. K.K. Chandran, Dr. R. Surendran, Dr. Parvathi Warrier, Mr. K.P. Chandrasekharan, Mr. P. Hempalan, Mr. C.P. Premarajan and Mr. P.K. Nalinakshan delivered felicitation addresses.
President Nakano also visited one of the oldest CFP School, the Bharatiya Vidhya Bhavan School, Chevayur. President Nakano also graced the reunion meeting of the graduates of the International Educational Exchange Program (IEEP) at the OISCA Youth Center in Kerala. IEEP was started in 2001 as an incentive by President Nakano to OISCA South India Chapter after they won the Indira Priyadarsine Vriksha Mithra (IPVM) award from the Government of India in 2000. The IPVM is the top level award in the environment field for NGO`s. OISCA Kondoty, a recently approved chapter in South India also accorded Dr. Nakano a warm reception. In her concluding address, she explained about the important events connected with India in the past 52 years history of OISCA Movement.
Gallery