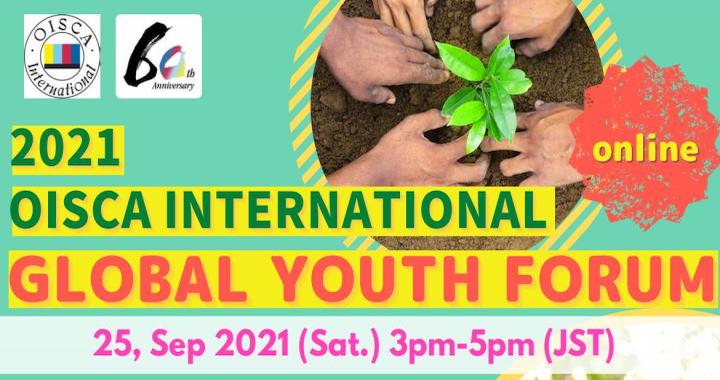 Sep 14, 2021
In the commemoration of the 60th anniversary, OISCA, an international non-governmental organization, will organize Global Youth Forum 2021 online on Saturday 25th September.
Young leaders from all around the world will present their ideas upon Biodiversity and Environmental Conservation in the form of a short speech.
You are cordially invited to join the forum through YouTube live streaming for building a sustainable future together.
You can send your message, comments and inquriy through Youtube.
If you want to participate via zoom and discuss directly with speach contest winners, please register from here by 23 September.
https://forms.gle/fEYUNtELjj4coGdG6
If there are seats left, we will send you the zoom link for the zoom participation.
Program
OISCA GLOBAL YOUTH FORUM 2021 (ONLINE)
Celebrating the 60th Anniversary of OISCA International
Date: Saturday 25th, September 2021
Time: 3:00 – 5:00 P.M. Japan Time
【Time schedule】
◆ OPENING SESSION
 Opening Remarks
 Video Message by OISCA President, Ms. NAKANO Etsuko
 Video Message by a Supporting Agency
 Announcement of the Speech Contest Awards Winners
◆ SESSION 1: Share Idea
International Winners Speeches presentation
– Children Category
 Mr. Chiu Yin Hei Trevor (Hong Kong)
 Ms. Hoshi Mauru (Japan)
– Youth Category
 Ms. Yody CHAN (Hong Kong)
 Ms. Niranjana Uday (South India)
– Young Adult Category
 Mr. T. Buranbaev (Uzbekistan)
 Ms. Nutchaya Thongnunui (Thailand)
◆ SESSION 2: Group Discussions
We divide three categories (Children, Youth, and Young adult category)
*For the participants via the Youtube, we will invite to the Youth Category
◆ CLOSING SESSION
 Brief summarize the group discussions.
 2021 Global Youth Forum Resolution
Closing remark
What is OISCA?
The Organization for Industrial, Spiritual and Cultural Advancement International (OISCA International) is a non-governmental international organization established in Japan in 1961. OISCA has operated for the past 60 years in young people's capacity development, forestation, rural development, and environmental education. The OISCA Movement is gaining strength in 37 countries and territories.
What is the Global Youth Forum (GYF)?
Since 1976, OISCA International, in cooperation with the United Nations, government agencies, youth organizations, and other organizations, has been organizing  in various countries in the Asia-Pacific region as an opportunity for young people to exchange opinions and cooperate for sustainable social development.