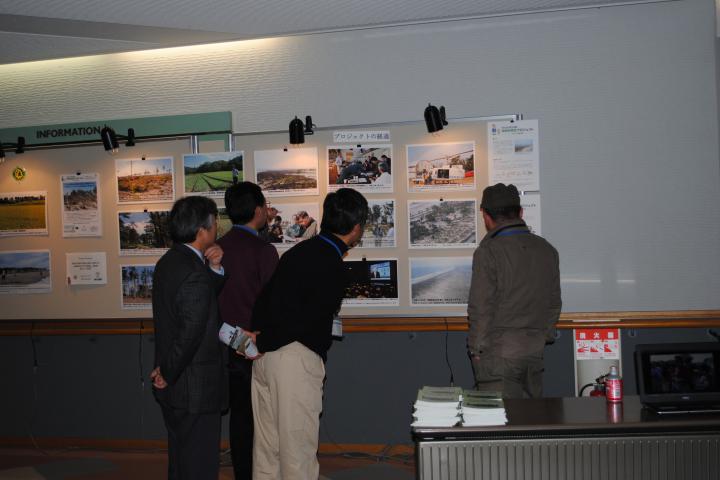 Feb 13, 2012
OISCA demonstrated its strong presence in an international seminar held on February 5 at Sendai International Center. This seminar on "Role of Forests in Natural Disasters and Revival of Forests and Forestry" was organized by the Forestry Agency, Ministry of Agriculture, Forestry and Fisheries (MAFF), and co-sponsored by the Japan International Cooperation Agency (JICA) and Food and Agriculture Organization of the United Nations (FAO). OISCA took part in the event as one of the supporting organizations. It was attended by some 130 Japanese and foreign participants including JICA-invited forestry experts from China, ASEAN countries, Southwest Asia, Oceania, Latin America and Africa as well as representatives of international organizations.
Dr. Takehiko Ohta, Professor Emeritus, University of Tokyo, opened the floor with his keynote speech entitled "The role of forest in the Great East Japan Earthquake and sustainable forest management and its usage".
Dr. Kunihiro Seidou, OISCA Advisor of Green Technology, delivered a presentation on "Cooperation with NGOs for Forest Management and Re-construction of Coastal Forests". He introduced OISCA's Coastal Forest Restoration Project now being carried out on the seashore area of Natori City, Miyagi Prefecture.
At the entrance of the conference hall, OISCA set up a temporary information desk and exhibited a number of visual panels depicting the Coastal Forest Restoration Project site to respond to various inquiries from the seminar participants as well as to the general public who are attending other functions.
In the evening, a reception was hosted by Mr. Yoshitsugu Minagawa, Director-General of the Forestry Agency, for the seminar participants. The OISCA staff led by Tadashi Watanabe, Vice Chairman of the Board, OISCA Japan, met with the foreign participants and conducted strong PR activities for the on-going forest restoration project.