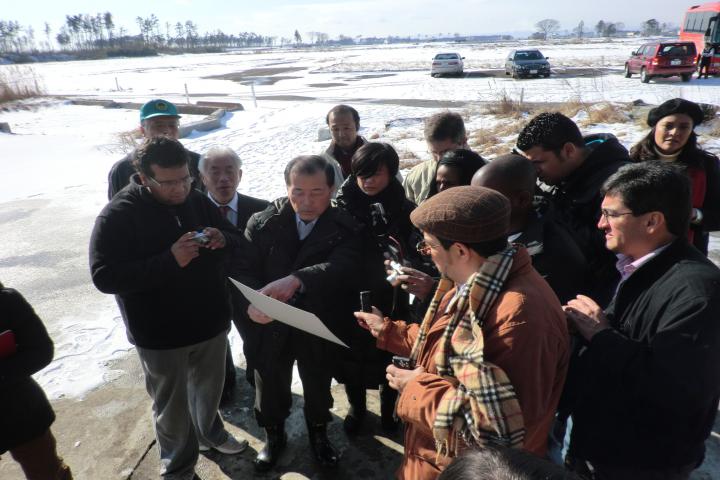 Feb 13, 2012
A 10-member journalists group from Argentina, Brazil, Chile, Colombia, Costa Rica, Jamaica, Mexico, Panama, Trinidad & Tobago and Venezuela visited on February 4 the OISCA Coastal Forest Project site in Natori City, Miyagi Prefecture.
The journalist members of the Foreign Press Center-Japan (FPCJ) were commissioned by the Foreign Ministry (GAIMUSHO) for a 9-day program to cover the present recovery state of the affected areas from the March 11 earthquake and tsunami disaster.
On their way from Sendai to Natori by chartered bus, Mr. Tadashi Watanabe, Vice Chairman of the Board, OISCA Japan, accompanied the journalists and conducted a general briefing on the history, organization and functions of OISCA and its Coastal Forest Restoration Project now being promoted on the seashore of Natori City. On the project site, Mr. Kouichi Sasaki, OISCA Coastal Forest Restoration Project Field Manager, guided the media group around the coastal forest area heavily damaged by the disaster last year and explained the technical aspect of the restoration project that will be carried out over 10 years by OISCA in cooperation with a group of disaster-hit local residents. Some tour participants commented that the OISCA project would definitely benefit the local community.
The journalists then met with Mr. Eiji Suzuki, who leads the Association for Disaster Recovery in Natori City East Region, and also another disaster-affected local resident, Mrs. Kazuko Mori, in front of Mr. Suzuki's half-destroyed house, the sole building remaining in the tsunami-affected area. All the journalists showed an extraordinarily strong interest in the telling stories of the disaster-affected residents as to how they were able to escape in the nick of time from the devastating tsunami last March and how they are trying hard to recover from the trauma of the disaster.