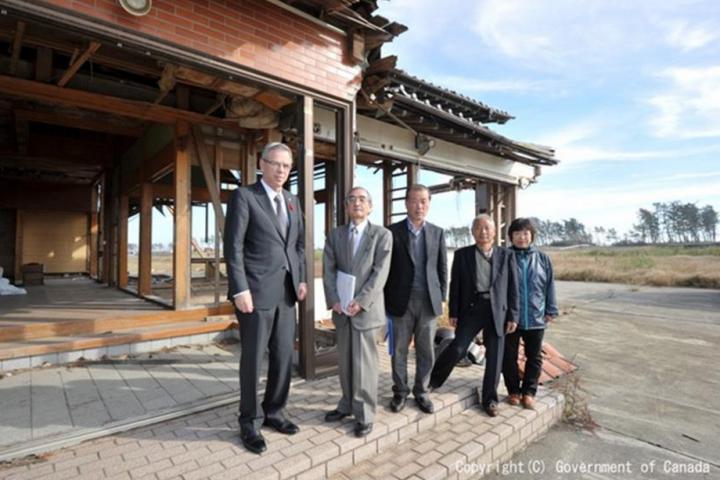 Nov 30, 2011
Canadian government delegation led by H.E.Mr. Joe Oliver, Minister of Natural Resources, on a working visit to Japan in early November, went on November 12  to Miyagi Prefecture, one of the March disaster-hit areas, to inspect the unloading of the Canadian timber that arrived at the Sendai Port for the first time after the disaster.
Minister Oliver and his group then moved from the Sendai Port to Natori City, and under the guidance of Mr. Eiji Suzuki, Chairman, Association for Disaster Recovery in Natori City East Region, and other disaster-affected local residents, conducted an on-site visit of the coastal forest area which suffered devastating damage. They were briefed about the Coastal Forest Restoration Project that was recently started by OISCA.
The minister, upon hearing that the house of Mr. Eiji Suzuki, the only one remaining in the area, not swept up by the tsunami, was built in Canadian cypress wood, remarked that the house withstood the disaster because Canadian produced wood is solid. He said that the Canadian government, for its part, would like to provide cooperation in one way or other to the disaster recovery in future.