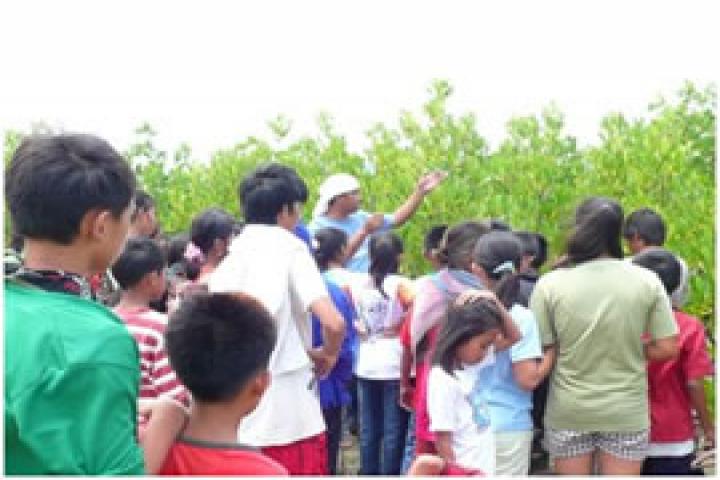 Jun 18, 2011
The Provincial Government of Ilocos Sur in the Philippines presented to Barangay Dardarat Municipality of Cabugao the Hall of Fame Award after receiving the Best in Coastal Resource Management and having the highest production of Aqua Culture for three consecutive years. According to Barangay Captain Danilo Garcia of Barangay Dardarat, it is attributed to the maintenance of the 10 hectare mangrove vegetation along the coastline of the barangay.
Mr. Delfin Tesoro, the Director of OISCA Abra Training Center initiated the mangrove reforestation project to the barangay under the Children Forest Program in 2004. Several years after, the used to be barren coastal area is now covered by more than a meter high mangrove which serves as natural barrier and protects the community`s shoreline from abrasion and somehow shields the residents against the direct hit of sea waves and strong winds caused by typhoons that often visits the Philippines.
The already established mangrove ecosystem serves as laboratory to the visiting elementary, high school and university students of Abra and Ilocos Region where at close range give them the opportunity to observe the unique biodiversity of the mangrove vegetation. Despite the poor site condition and frequent occurrence of typhoons that caused the mangroves to be uprooted and washed out, the site mostly planted with Rhizophora stylosa, locally knows as bakawang bato has a good survival rate. Under the guidance of Mr. Delfin and Barangay Captain Danilo Garcia, the residents of the barangay and Japanese volunteers and students are working together without any monetary incentive in ensuring the survival of the planted mangroves.
One of the things that have observed in the mangrove site is thickened soil due to the accumulated soil particles under the root of the mangroves that supports and nurtures the newly planted propagules. The resident fishermen noticed as well the increase in the number of crab and fish catch after the mangrove vegetation has been established. The neighboring barangays began to notice the numerous advantages of planting mangroves and they become interested in planting it in their own territories. The residents of Dardarat with the permission of OISCA-Abra are planning to sell the mangrove propagules collected from the OISCA sites which will be added to the 300,000 pesos or 600,000 yen budget that they received from the provincial government as an award for the establishment of a building to accommodate the Japanese visitors who helped in planting mangroves.
The mangrove made us to be more united and the mangrove helped Cabugao to be famous. The overwhelming sense of pride that we felt after receiving the award is something that money could not buy・statement of Barangay Captain Garcia.