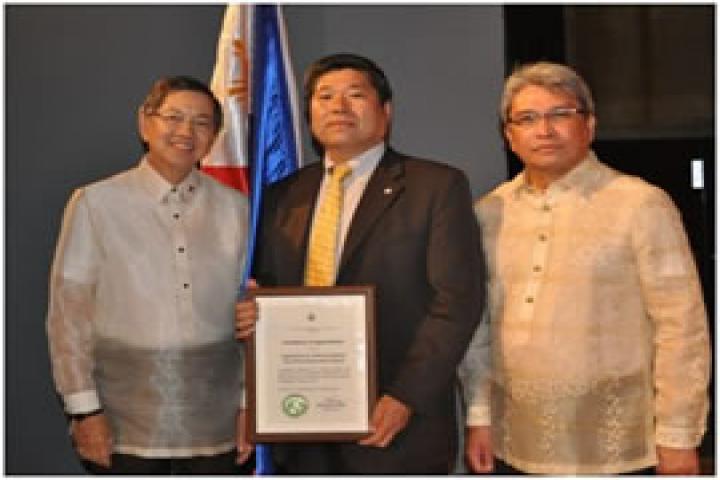 Jun 16, 2011
OISCA received a Certificate of Appreciation from the Embassy of the Philippines to Japan to recognize the supports and contributions of OISCA to the Filipino Communities affected by the March 11 calamity especially in Tohoku Region. The awarding ceremony was held on the 11th of June at Japan Education Center in Tokyo by His Excellency Ambassador Manuel M. Lopez and Consul General Sulpicio M. Confiado.
OISCA donated blankets collected from its members and Training Centers in Chubu, Kansai, Nishi Nihon and Shikoku to address the need of the Filipino victims as requested by the Philippine Embassy. Other relief goods donated to the Filipino evacuees are mineral water, medicines, undergarments, diapers and masks purchased from the accumulated money from the Japanese companies supporting OISCA projects, OISCA members and staffs, former OISCA trainees and OISCA-Chapters overseas led by OISCA Philippine President Governor Alfredo G. Maranon, Jr.
OISCA has been working closely with the Filipinos within and outside Japan since its foundation in 1961. With its activities like environmental education programs, operating agricultural training centers, reforestation projects and livelihood development projects aligned with the development plans of the Philippine government in poverty alleviation, OISCA has somehow contributed to the development and empowerment of the Filipinos. These efforts were recognized by the late former President Corazon Aquino and former President Joseph Estrada as OISCA was awarded with two Presidential Citations.