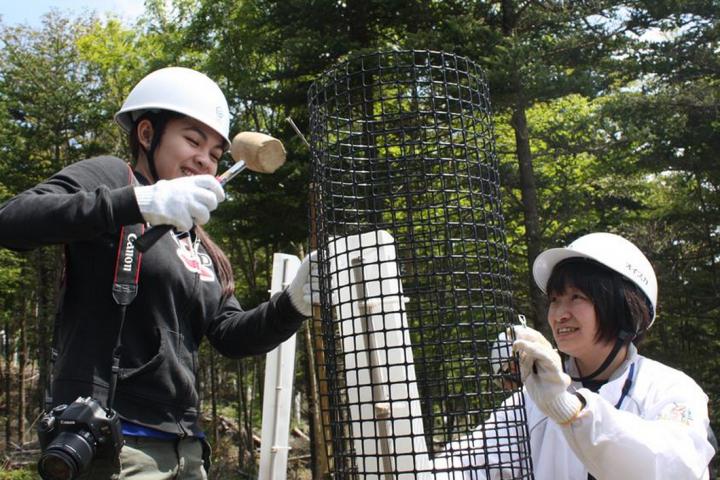 Jun 13, 2011
Tokyo Based diplomats, OISCA members, OISCA supporters and OISCA Training Center staffs and trainees gather together at the 1,500-1,600 meter altitude in the northern foothills of Mount Fuji in Yamanashi Prefecture for the 5th Annual Tree Planting activity organized by OISCA Japan on the 4th of June, 2011.
It has been known that after the Second World War, the local government of Yamanashi Prefecture encouraged it citizens to plant solely in Mount Fuji the Abies veitchii tree specie locally known as shirabe, a fast growing easily utilizable fir endemic in Japan. Unfortunately, despite the high percentage of the forest cover of Japan, experts are worrying on the disadvantage of the monoculture and artificially regenerated forest particularly in Mount Fuji. The same species planted in the same area made the trees in Mount Fuji susceptible to insect infestation and other diseases that caused the death of the trees.
To address the problem, since 2007, OISCA is spearheading the annual planting of indigenous species of trees like Fagus crenata, Quercus crispula, Prunus jamasakura, Alnus japonica and Acer mono to support and maintain the biodiversity of Mount Fuji. The risk of having a low percentage of survival were overcome by putting biodegradable wood guards to protect the newly planted seedlings from the extreme weather condition especially in winter and to protect the seedlings from the attack of wild deers. To ensure the survival of the trees planted on the first stage of the project, nets were put by the participants this year.
Since the start of the project, OISCA has managed to plant 38,600 trees in 38 hectares in cooperation with 24 organizations and 5,850 participants. OISCA is leading the Mount Fuji Restoration Council, a committee that comprises the group of researches, funding agencies and government officials of Yamanashi are working together to maintain the average of 90 percent of survival of the planted seedlings and thus guarantying the restoration and conservation of the Mount Fuji`s biodiversity.
" I am grateful for the opportunity to be part of this activity. It gave me the opportunity to commune with nature and be refreshed after working in the fast paced urban lifestyle in Tokyo", commented by Ms. Theresa F. Albano, Attache of Philippine Embassy to Japan.
The Japanese people have a very high regard in living harmoniously with nature. From afar, mountains of Japan may appear healthy but beneath the canopy lays a deceptive problem brought by some misconceptions of the real meaning of biodiversity. OISCA is hoping to promote further planting of local species of trees to promote the biodiversity of forest ecosystem in Japan. With the knowledge and experiences gained in the five years of project implementation in Mount Fuji, OISCA is planning to support a tree planting project in the coastal areas damaged by the tsunami in Tohoku Region.