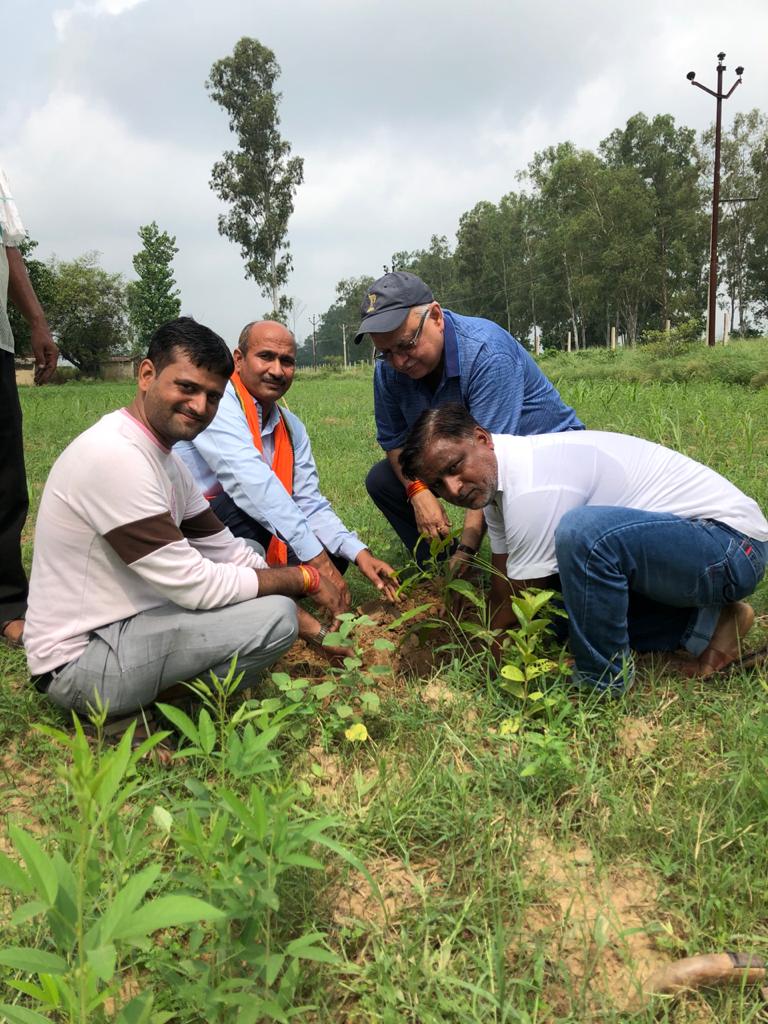 Tree Plantation  program at Sambhal & Varanasi implemented in September 2019 in which delegation from OISCA International Japan came and  participated together with NMCG, JICA, Embassy of Japan and Govt. of UP. 
The purpose was to have Plantation activity every year, but due to Corona Pandemic in 2020 and 2021, the said activity was curtailed to minimum participation. But even so , we still tried to move ahead. 
Plantation Program  at Sambhal ( State of Uttar Pradesh)  in August 2020
Due to Corona  restrictions, Approx 500 plant saplings were planted in which 50 school children of Smt Raj Rani Devi Saraswati Vidya Mandir participated at Sambhal. 
Similar plantation program is ongoing in association with NMCG for current  year in July to Sep 2021. 
Approx. 200 plant saplings planned to be planted with active  participation of  school  children at Sambhal.  
Tree Plantation is also under implementation in collaboration with  Madhya Ganga Nahar Nirman Khand-9.l. Undertook a programme in association with Jain Irrigation for training farmers in drip irrigation methods and organic farming. 
Projects for skill development under planning and implementation: 
    -Setting up of training center for women and children 
    -Computer training.        
    – Stitching weaving center. 
    – Agricultural training. 
    – Industrial training. 
Education Program at Sambhal ( State of Uttar Pradesh) in Year 2020 and 2021
Scholarship offered to 20 meritorious students of  Smt Rajrani Devi Saraswati Vidya Mandir. Setting up of library for students . 
Contribution done for school infrastructure improvement. 
The Trust acquired a Tractor  with contribution  from Alar Group
Assisted OISCA International in introducing to NMCG, extension of cooperation agreement and facilitating discussion with World Bank the same is under final evaluation and approval 
Free Cooked Meals Project
Due  to the COVID pandemic and the resultant difficulties, undertaken a project to provide cooked meals to approx 10,000 people in June-July 2021 at various locations  in Delhi NCR. This project is supported by: 
             OISCA  International 
             DSOBS (Doon School Old Boys Society ) 
             POORTI (Each One Feed One ) 
             ALAR's CSR initiative. 

 Schedule was done as under :
5th June 2021 :  Jasola Slum Area Near Apollo Hospital, New Delhi (over 1000 cooked meals were served). 
24th June 2021 : Shakur Basti, Near Punjabi Bagh Metro Station, New Delhi ( over 1500 cooked meals served)    
June/July 2021 : Still continuing : This distribution is to offer 10,000 meals in June-July 2021. 
The projects are being coordinated by staff of Mr Nishant Vashisth and  Mr. Vikash Sharma who are in charge of OISCA project together with Mr. Aditya Sinha and Mr. Ashwin  Sinha