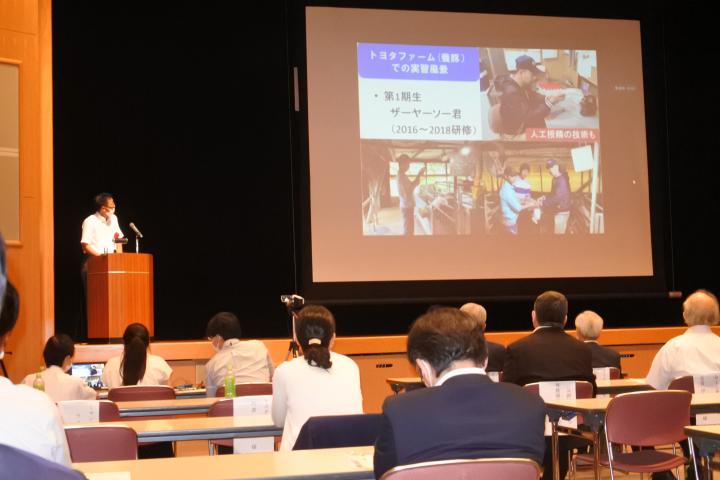 Aug 12, 2021
We organized a symposium in Toyota City, Aichi Prefecture on the 7th of August to commemorate our 60th Anniversary this year. With a theme "Exploring the Form of International Cooperation", the symposium was graced by Mayor Ota Toshihiko of Toyota City. The event was attended by 134 participants, including the Board of Directors of OISCA Japan, Senior Management Officers of Tokyo Headquarters, Directors of the 4 OISCA training centers in Japan, OISCA members and supporters, and the media.
Divided into two parts, the event was officially opened by OISCA International President, Ms. Etsuko Nakano. It was followed by the congratulatory message of Mayor Ota, which he mentioned how OISCA and Toyota City`s relationship deepened since the United Nation`s High-level Symposium on Sustainable Cities hosted by the city government in January 2015.
Meanwhile, Mr. Sukigara Yuichi`s presentation focused of his experiences in international cooperation by collaborating with OISCA. Through this collaboration, his hog production farm has accepted more than 100 trainees from the developing countries, including the Philippines to learn hog raising. In the past, Mr. Sukigara`s family gave monetary support to start-up hog raising farms to Filipino graduates who underwent training in his farm. Unfortunately, due to the high cost of commercial feeds and other inputs, his family`s efforts were not successful. With this, his family shifted their support to Myanmar. He visited Myanmar several times to teach the locals the innovative techniques of hog production. He also shared with the audience his family`s struggle when their farm was hit by the Classical Swine Fever in February 2019. As his presentation ended, he introduced Mr. Zaw Zaw Win, one of the technical intern trainees from Myanmar who is currently learning in his farm.
In his 5-minute speech, Mr. Win mentioned about the importance of learning the Japanese language for him to fully grasp the techniques, knowledge, and technical know-how of hog raising. He promised that the things that the learnings that he acquired in Japan, particularly the artificial insemination (AI) will be used to help improve the living condition of the people in Myanmar.
The event`s second part was a panel discussion, which focused on the Improved Human Resource Development as a form of Japan`s International Cooperation. It was moderated by Mr. Mitsuoka Yasuyuki, Chairman of OISCA Aichi Chapter. Panelists were the following:
1. Mr. Uriu Michiaki – Chairman of OISCA Nishi Nippon Branch, Board of Director of OISCA Japan, and Chairman and Representative Director of Kyushu Electric Power Co., Inc.
2. Mr. Izumi Masafumi – Chairman of OISCA Shikoku Branch, and Advisor of Shikoku Railway Company participated virtually/online
3. Mr. Okazaki Shozo – Chairman of OISCA Kansai Branch, and Chairman of Nexta Co., Ltd.
4. Mr. Nagaishi Yasuaki – Secretary-General, OISCA Japan
5. Mr. Kosugi Yuichiro – Director, OISCA Chubu Nippon Training Center