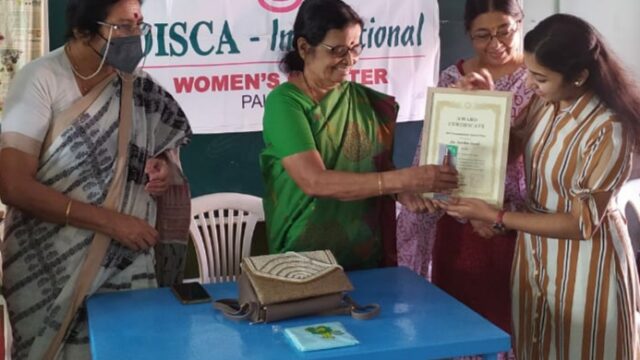 This international speech competition – Biodiversity and Natural Environmental Conservation – was conducted in cooperation with OISCA Chapters, at various stages in a befitting manner. The contests took place in three categories:
(a) those less than 13 years old,
(b) those from 13 years old – less than 18 years old, and
(c) eighteen years and over (the oldest one in their thirties)
Members of OISCA South India place on record sincere gratitude to the organizers for conducting this international competition in a well-poised manner at various stages keeping the students at ease.
The prize distribution ceremony of the Global Youth Forum Speech Contest was held on 3rd January 2022 at Amrita Vidyalaya, Palakkad and on 21st January 2022 at Chinmaya Vidyalaya, Kannur respectively.
The functions were as per the Covid protocols. Winners from Kannur. Ms. Niranjana Uday received the Merit Award and Master Abhijay Kuttassery the Best Communicator Award. Ms. Sandra Suresh of Palakkad was also conferred the Best Communicator Award.
The winners were excited to see the gifts and awards and, in their feedback, extended their love and gratitude to the organizers for this recognition shown and for giving them an opportunity in the international platform to speak on this most relevant topic of the present- 'Biodiversity and Natural Environmental Conservation'. They were immensely happy that they could learn from each other and also from the learned judges how to contribute better in conserving biodiversity and nature.
A grand function was held at Amritha Vidyalaya, Palakkad. Dr.Parvathy Warrier ,Vice President OISCA-South India presented the award to Ms,Sandra Suresh at Palakkad. Mrs.Anitha.T Secretary ,OISCA Women's Chapter briefed the students about the contest and on the theme. Mrs. Jyothi Balachandran,Vice President, OISCA Women's Chapter, Palakkad, Mrs.PriyaDevi, Mrs.Chandrika SreeKumar -Members OISCA,Women's Chapter Palakkad and Mrs.Priya, Teacher In-Charge offered felicitations.
Mr.Vinod Chandran(OISCA secretary, Kannur Chapter) Mr.Mohammed Ashraf. A (Secretary, OISCA North Kerala Region), Principal Ms. Leela, Vice Principal, Ms.Mrudhula, OISCA Chinmaya Vidyalaya Co-Ordinator ,Ms. Bindu PC, School Leader- Sidharth Rajesh were present at the grand prize giving ceremony at Kannur, Chinmaya Vidyalaya.
A word of appreciation is due to OISCA Japan for the prizes awarded to all the winners and the timely support rendered to all our endeavors.
>> OISCA International Global Youth Forum Speech Contest on Biodiversity and Environmental Conservation 2021 Winners List