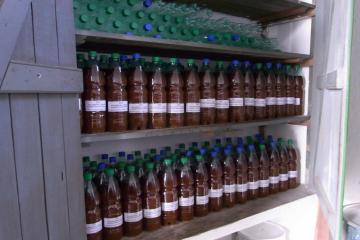 Poverty Reduction Project in Uruguay

Year Started
2008
Name of Director
Mr. Takahito Mikami
Activities

OISCA Uruguay has been successfully carrying out project for poverty reduction and improvement of the sanitary conditions of the low income families in rural communities of the provinces of Artigas, Soriano, Canelones, Montevideo and Treinta y Tres.
Under the project, a center for bokashi production through effective microorganisms (EM) in Egana, Soriano Province were established to train five national experts, 30 local leaders and 300 pioneer farming families to be the core implementing agents of the project.
A new hostel was built and inaugurated in October 2010 to accommodate the trainees who are interested in EM. In addition, a manual written in Spanish has been published and distributed for local leader training, EM activation and bokashi production manual and manual for the proper way of utilizing EM in animal husbandry.

Project Impact

The produced EM1 was registered as a material for cattle breeding and agriculture and furthermore the sale of EM1 was approved by the Ministry of Agriculture, Cattle Breeding and Fisheries of Uruguay.
Poverty was reduced among the beneficiaries of the Project and the sanitary situation of local small producers was improved remarkably. The distribution system of EM technology was established and even large scale businesses are encouraged to use the EM technology.

Training Center Locations
Artigas, Soriano, Canelones, Montevideo and Treinta y Tres
Counterpart Agencies

Japan Special Fund (JSF)
Poverty Reduction Program administered by the Inter-American Development Bank (IDB)
Grassroots Grant of the Japanese Government.