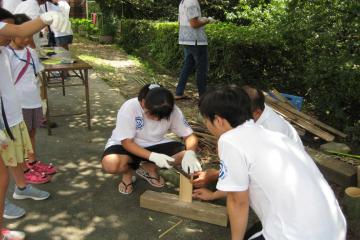 Aug 8, 2019
Multicultural English Communication Summer Camp was held on August 3 and 4 at the OISCA Chub Nippon Training Center located in Toyota City, Aichi Prefecture. A total of 13 school children, two boys and 11 girls aged from 6 to 12 years from Toyota and neighboring cities participated in the program. The program was designed to familiarize the children with learning practical English through games, songs and dances. Foreign trainees from Bangladesh, Fiji, India, Malaysia, Papua New Guinea and the Philippines who are currently undergoing training in agriculture and other fields, acted as communication partners and a few Japanese university student interns supported the various activities during the program.
On the first day, the children enjoyed a variety of games. An Indian trainee made a presentation on India: the country in general, language, food and famous buildings. Then, he taught the children a traditional dance from South India, and under his guidance, everyone practiced it altogether. Afterwards, all the participants moved to the kitchen and challenged making the traditional Indian food called Roti, flatbread made from flour and water that is combined into a dough. Roti was then baked in frying pan. Everyone ate Roti with curry for lunch.
In the evening, the participants experienced making Malaysian food: Sate, skewered and grilled meat, that is similar to Japanese Yakitori. The children struggled preparing Sate by skewering bamboo sticks and pieces of chicken meat.  At night, they were all excited by playing with fireworks.
On the morning of the second day, after group exercises, the participants ran to the near-by poultry and got fresh eggs for breakfast. Then, the children practiced English songs. They made chopsticks by cutting bamboo and filing, and used them for eating Nagashi Somen, fine white noodles served flowing in a small flume. For dessert, they tasted a popular Filipino cold desert: Halo-Halo, crushed ice mixed with evaporated milk and various ingredients including sweetened beans, seaweed gelatin, fruit slices, etc.
At the beginning of the program, the children all looked very nervous and could hardly speak out. In fact, one girl started crying because she could not understand simple English words. But as time went on and thanks to the friendliness of the foreign trainees, they got used to the atmosphere and freely opened up to each other.
The program ended in a great success and the group dismissed with a lot of multicultural experiences and unforgettable memories.
Gallery