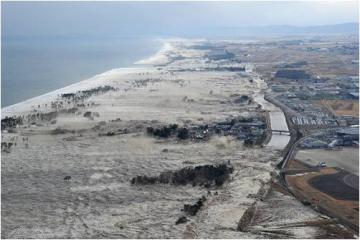 Jan 29, 2015
Coordinated by the United Nations International Strategy for Disaster Reduction (UNISDR) and hosted by the Government of Japan, the 3rd World Conference on Disaster Risk Reduction will be held in Sendai from March 14-18, 2015.
On this occasion, OISCA International is organizing on March 15 (Sunday) an on-site bus tour to allow the participants to observe the progress of the organization`s project of restoring the seashore forest in Natori City which was uprooted and washed out by the raging tsunami in March 11, 2011.
The Coastal Forest Rehabilitation Project which was carried out since late 2011 is aimed at planting about 500,000 seedlings of mostly black pine seedlings along the 100 hectares coastline of Natori City for the 10-year period until 2020. In collaboration with the disaster-affected local farmers and volunteers from the different parts of Japan, OISCA has already planted a total of 78,000 seedlings.
Please be encouraged to take this unique opportunity to observe and gain first hand insights on the actions undertaken for the immediate disaster-recovery.
Date and Time: March 15, 2015 (Sunday) from 11:00- 16:30
Venue:    Coastal area of Natori City (near Sendai Airport) in Miyagi Prefecture
Program: 
11:00 –  departure of the bus from the East Exit of JR Sendai station
11:45-15:30-  visit the disaster-hit area in Yuriage, OISCA nursery, disaster-hit area in Kitakama, project site and artificial embankments.
16:30- arrive at East Exit of JR Sendai station.
Expense: Free
Contact:  Ma. Grazen Acerit (Ms)
International Cooperation Division
OISCA Japan
Tel. 03-3322-5161 or Fax: 03-3324-7111
Email: grazen@oisca.org
HP: www.oisca.org
Register: 
Please provide the information below and send by fax: 03-3324-7111 or email at grazen@oisca.org no later than March 12 (Thursday).
Name: 
Organization:
Country/Area:
Telephone:
Email address:
Gallery