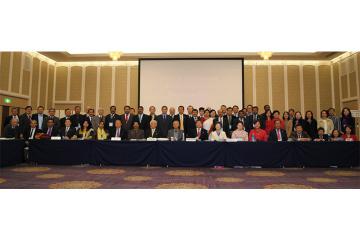 Jan 23, 2015
Attended by 77 representatives from the 14 countries and territories where the national chapters of OISCA are located and graced by Mayor Toshiko Ota of Toyota City and H.E. Ms. Meher Afroze, State Minister of the Ministry of Women and Children Affairs of Bangladesh, the annual board meeting was held in Toyota City, Aichi Prefecture on January 14.
During the meeting, Secretary-General Yasuaki Nagaishi mentioned about the UN`s declaration of 2015 as International Year of Soils (IYS) with a theme of "Healthy soils for a healthy life" to combat desertification, increase awareness and understanding of the importance of soil for food security, climate change adaptation and mitigation, essential ecosystem services, poverty alleviation and sustainable development. Mr. Nagaishi requested among the participants to submit proposals on the actions that need to be done based on the half a century experiences and accomplishments of OISCA International.
Datuk Ibrahim bin Ahmad, Chairman of OISCA International Finance Committee reported the result of the second finance committee meeting which was held in January 13, 2015. He discussed about the committee`s support to the Human Resource Development Project in Bangladesh and Fiji and the need to work on succession plan and/or investing on human resources development to further involve the younger generation in OISCA activities.
"The increasing disparity between the rich and the poor in rural and urban areas is now creating a social unrest", said by Professor Ryokichi Hirono. He also added that there is an urgent need to involve the youths in Furusato Movement as they are more innovative in terms of suggesting new programs for the development of the communities. Recognizing the importance of youth in community development, 2015 Asia Pacific Youth Forum will be organized and hosted by OISCA South India Chapter.
In his closing remarks, Toshihiro Nakano, Executive Vice President of OISCA International mentioned that for 54 years, OISCA has been taking actions at grassroots level based on the organization`s mission. To be able to sustain these actions, he encouraged the further support of the participating members and the financial committee.
Meanwhile, moderated by Professor Hirono, Aravind Babu of OISCA South India Chapter presented OISCA activities in the High-Level Symposium on Sustainable Cities: Connecting People, Environment and Technology, Co-convened by the United Nations and Toyota City.
Gallery