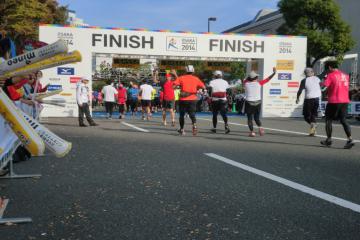 Nov 7, 2014
The 4th Annual Osaka Marathon was held on October 26, 2014 in Osaka City, Japan. More than 31,000 people from around the world participated, making it one of the largest charity marathons in Japan. Under the hot weather conditions of nearly 25 degrees Celsius, Jackson Limo (Kenya) won first place in overall male category for the second time with the course record of 2:11:43 Hours. Maryna Damantsevich (Belarus) won first place in overall women category with the record of 2:33:04 Hours.
The Osaka Marathon is a charity-based event that requires each charity runner to raise at least 70,000 JPY to donate to 1 of 13 organizations. One of those organizations was OISCA Japan, represented by 2 female staff members and 21 individual supporters from different companies and organizations. An OISCA supporter, a 60-year-old native of Osaka, was living with his family in Osaki City, Miyagi Prefecture during the time of the Great East Japan Earthquake in March 2011. Since he and his wife survived, they have moved back to Osaka. Strongly moved by OISCA Japan's coastal rehabilitation project in Miyagi, he participated in the race to raise donations with the help of his high schools friends.
Since 2011, OISCA Japan and disaster-hit residents in Natori City, Miyagi, have been restoring the coastal forest which was devastated by the tsunami in the wake of the strong earthquake. This year, the project has planted 75,000 seedlings of black pine and indigenous species. Another 120,000 seedlings are being raised and prepped for the 2015 planting. The project is expected to be completed in 10 years with a budget of 1 billion yen. With the strong efforts of marathon participants, donations collected in the Osaka Marathon will go towards raising seedlings and restoring the coastal forest. 
Gallery