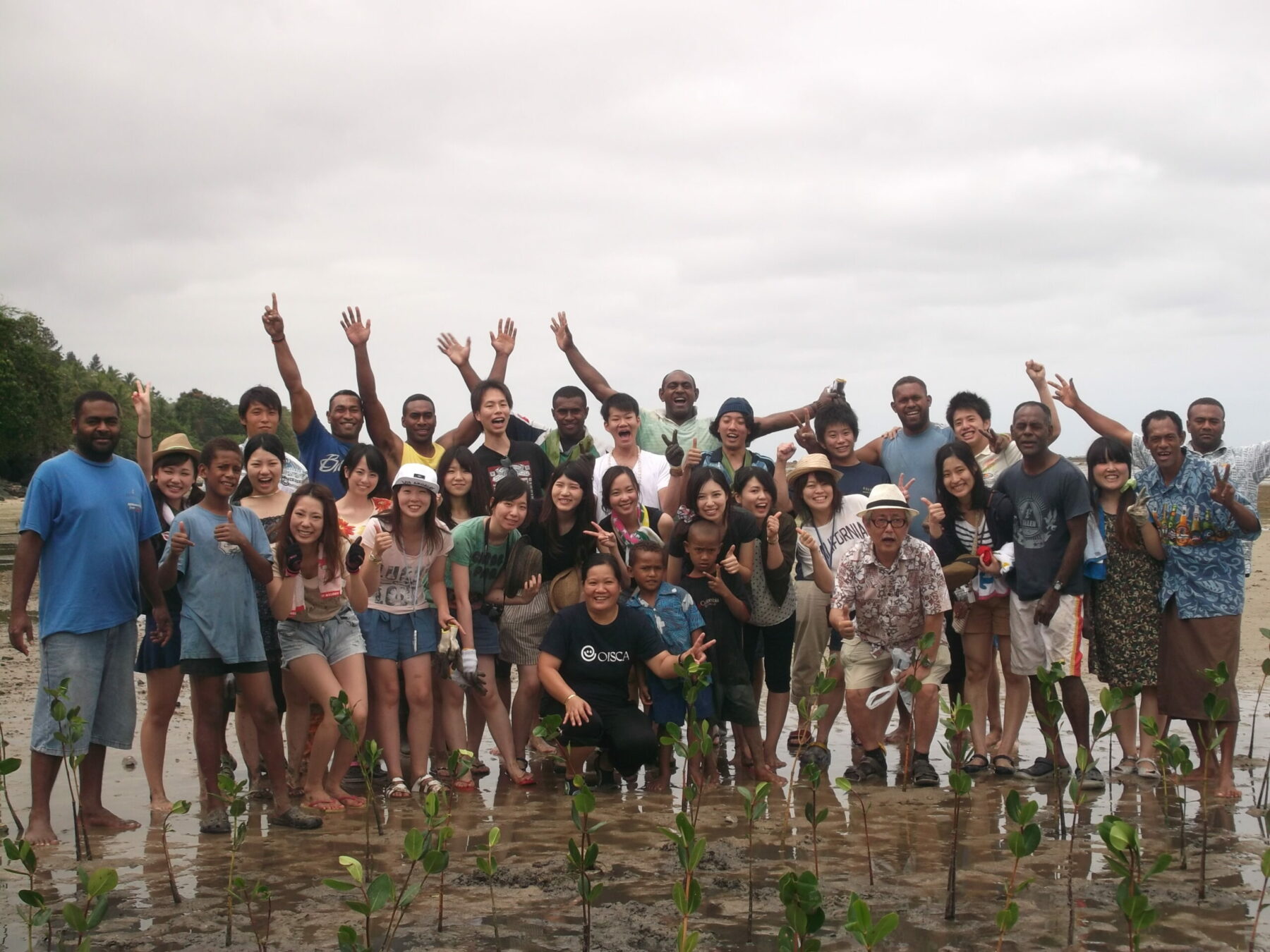 Sep 24, 2014
Nineteen Tourism students from Toyo University together with their Professor came to Fiji Islands and joined OISCA-Fiji in mangrove planting activity in Komave Village on September 08, 2014.
Professor Syunshi Matsuzono is a professor from Toyo University Department of Tourism and has been visiting Fiji Islands since 2006. Every year he takes his students to Fiji for tourism exposure and along with involving them in environmental activities with OISCA-Fiji mainly on mangrove planting.
Upon arrival to Komave Village on September 8, the group was greeted by a welcoming smile of the villagers. A traditional welcome ceremony called sevusevu was initiated by the village with the presentation of kava from the visitors. Such a great opportunity for the students to understand and experience firsthand the traditional culture of the Fijian community as well as having interaction with them.
After the ceremony, the students together with the village participants and OISCA-Fiji staff started the planting at the foreshore of the village. A total of 500 mangrove seedlings were planted. The village people were happy to receive such contribution for the protection of their community as they are facing the rising sea level as in most parts of Fiji. Adjacent to the planting area are the growing mangroves planted by previous Toyo University students. All participants were helping to clear the seaweeds and other wastes entangled around the mangroves which threatens the growth.
On their way back, students had the opportunity to visit OISCA-Fiji Mangrove Nursery in Korotogo and later had a short tour around the Youth Training Center in Nasau prior to their departure.
This year marks Professor Matsuzono's 8th year visit to Fiji Islands. OISCA-Fiji and Youth Training Center-Nasau represented by Mr. George Francis, YTC Principal Youth Officer, presented a certificate of appreciation to Professor Matsuzono for the valuable contribution he has to OISCA-Fiji towards International mission through environmental conservation to the community of Fiji islands.
Gallery