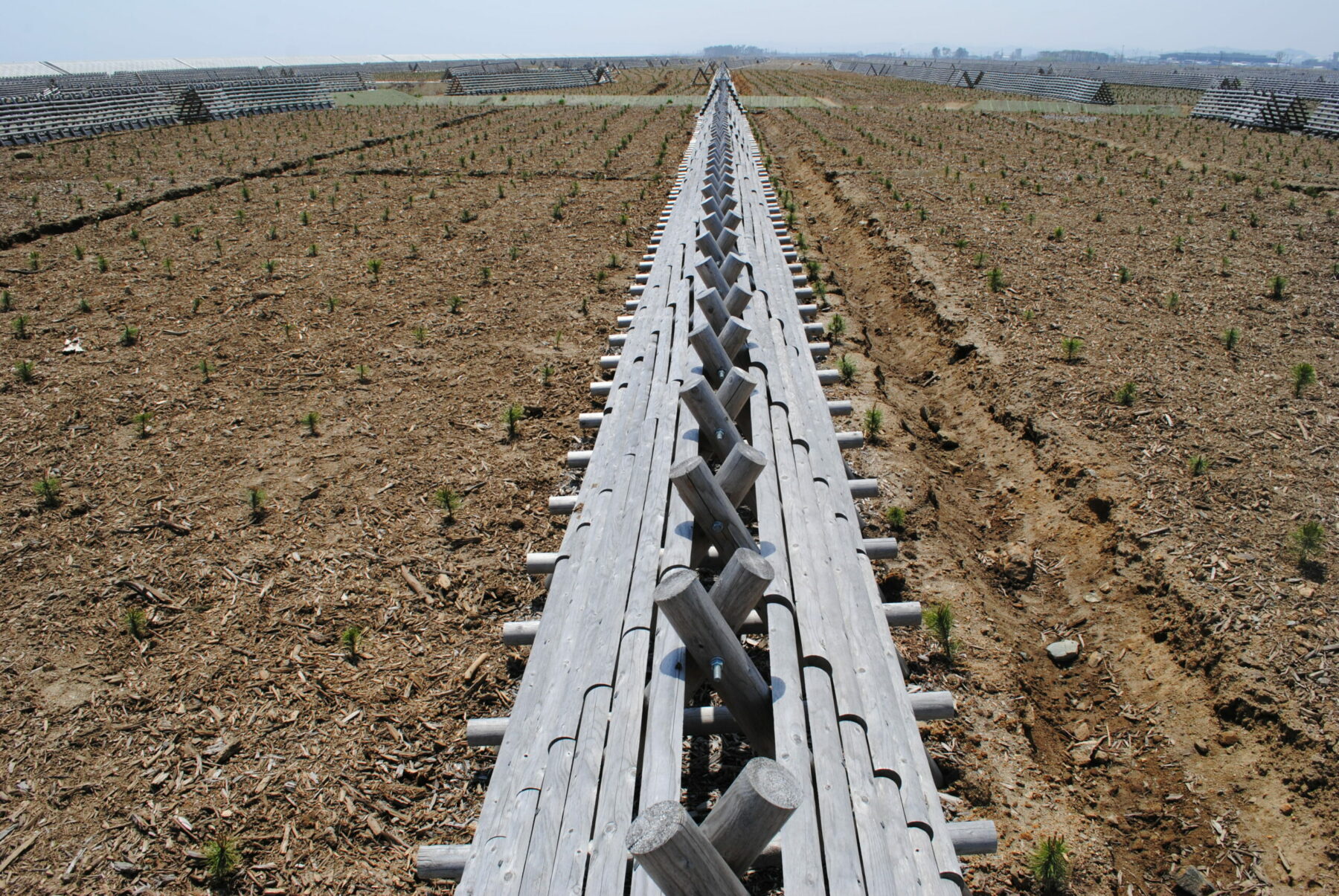 May 28, 2014
OISCA and the Association for the Coastal Forest Restoration in Natori City, a group formed by the disaster-affected local farmers, held a tree-planting ceremony on May 24 on the Natori coastal area, which was severely devastated by the Great East Japan Earthquake in March 2011. 350 people, including individuals from other municipalities in Miyagi Prefecture, took part in the event which was co-sponsored by the Natori Municipal Government and Miyagi Central Forestry Cooperatives.
In the opening ceremony held prior to the actual tree-planting work, Mr. Eiji Suzuki, President of the Association for the Coastal Forest Restoration in Natori City, delivered a speech welcoming all the participants and thanking them for their continued cooperation with the project. The Mayor of Natori City, Mr. Isoo Sasaki, and Mr. Masami Kurokawa, Director of the Tohoku Regional Forest Office, Forestry Agency, also made brief remarks appreciating the significance of the OISCA project.
Under the exceptionally favorable weather, all the participants laboriously planted 5,000 seedlings of black pine and other trees in the 1 hectare mounded area owned by the national government. A team of experienced local forestry experts and workers guided the volunteer participants on the proper ways of planting seedlings.
Young female students from the Miyagi Prefectural Agricultural High School located in Natori City, which was damaged by the 2011 disaster, said that they were very delighted to join the coastal forest restoration work in a small way. Ms. Anne Thomas, an American citizen living in Sendai City said, "I am very grateful for the opportunity to plant trees of long lasting hope in this area that I so deeply love."
The Coastal Forest Restoration Project is aimed at planting about 500,000 trees at the 100-hectare site for the 10-year period up until 2020, the year in which the Tokyo Olympics will be held. Since the full-fledged tree-planting activities started in late April 2014, a total of 75,000 seedlings have already been planted in the area covering 15 hectares.
For additional information, please access the documentary video made by NHK World through the link below.
Gallery