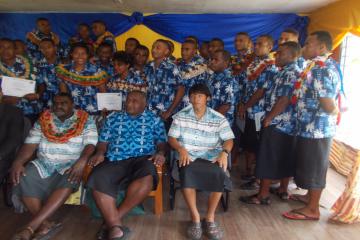 Dec 19, 2013
A graduation ceremony was organized on the 6th of December for the 14 agricultural trainees, 2 advance agricultural trainees and 15 carpentry trainees under the Capacity Building Program of OISCA in Fiji in collaboration with the National Youth Training Center.
Graced by Director Tomasi Tunabuna of the Animal Health and Production Division, Department of Agriculture, Ministry of Primary Industry, the ceremony was also attended by the members of the local police, parents and relatives of the graduates and the staff and members of the training center.
In the span of six months from July to December, the agricultural training graduates acquired practical skills in farming through the courses offered by the training center like organic agriculture and its benefits, utilization of land, growing of vegetables, animal husbandry, compost making (bokashi), Effective Microorganism (EM) making, waste management, plant propagation, nursery management and environmental conservation courses. Meanwhile, the graduates of the carpentry course have to fulfill 10 months of training to finish the program.
As part of the training, the graduates were also involved in the actual implementation of the environmental conservation program of OISCA including the mangrove planting, coral reefs restoration and CFP program in school. They undergo two weeks of environmental lectures prior to the actual involvement in the project sites.
"The life that we had on the whole duration of our training in the center is different from what we have in our own villages", said by Mr. Vilive Cati during his graduation speech. Through the daily scheduled activities, the trainees learn the importance of time management and self-discipline.
Since 1990, the Capacity Building Program of OISCA in Fiji has produced more than 630 graduates. Just like the rest, this year`s batch of graduates progress will be monitored by the OISCA staff and the Ministry of Youth and Sports will provide them tools and materials necessary to start their own respective farms.
Gallery