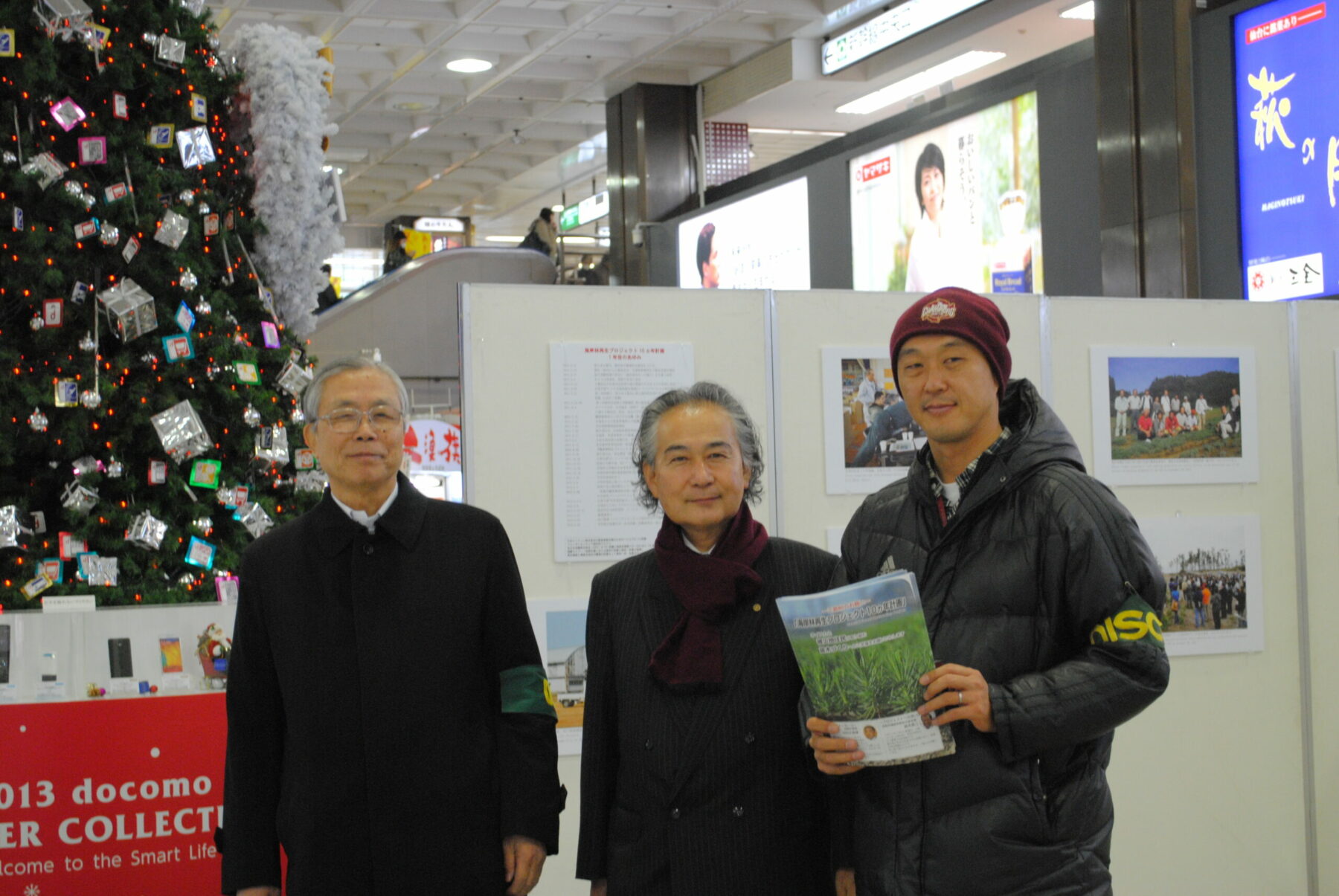 Dec 19, 2013
On the occasion of marking the 1,000th days after the Great East Japan Earthquake which devastated the Pacific coastal areas of the Tohoku region in March 2011, OISCA held a photo exhibition about its 10-year Coastal Forest Restoration Project in Natori City, Miyagi Prefecture.
The photo exhibition, sponsored by Nikon Corporation and Mitsui & Co., Ltd. Environment Fund, was held for three days, from December 10 to 12, at the central hall of JR Sendai Station where the number of incoming and outgoing passenger exceeds 200,000 persons a day. The exhibition featured a total of 70 photo panels introducing the current progress of the project, participation of the disaster-affected local farmers, functions of coastal forests, and characteristics of black pine trees which play a key role in the forest restoration.
This event attracted a large number of visitors and generated a keen interest in the OISCA project. Mr. Isoo Sasaki, the Mayor of Natori City, also visited the exhibition for about half an hour. The visitors included not only local residents but also foreign nationals. An American citizen living in Mitaka City, Tokyo was on a tour to Sendai and she happened to drop by the exhibition. She was so impressed with the OISCA project that she donated 10,000 in cash to the OISCA staff on the spot. Another American citizen, who is working as a writer and educator in Sendai and personally experienced the 2011 earthquake disaster, wrote an essay with photos on the Coastal Forest Restoration Project after observing the exhibition and speaking with the OISCA project manager. https://www.dropbox.com/sh/c698n2mzscfdz5h/y0Us86Htnl/December%202013.pdf
The Coastal Forest Restoration Project is in its second year since it was formally launched in cooperation with the Association for Coastal Forest Restoration in Natori City, which mainly comprises the disaster-hit local residents. Currently, about 124,000 seedlings of black pines and other species are steadily growing at the two nurseries located near Sendai Airport. Preparations are under way for concluding relevant agreements with the national and local governments to start full-fledged tree-planting activities early spring. To that end, OISCA is striving hard to raise necessary funds amounting to 1 billion yen in donations from corporate and individual supporters around the world.
Gallery