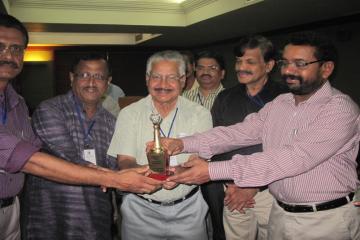 Oct 28, 2013
The OISCA South India Chapter, with its 86 branches and 4,250 members is encouraging its members through the annual awarding ceremony in recognition for the individual members and chapters who have excelled in implementing the OISCA activities in their respective areas.
The recipients of the awards were selected by the constituted committee and the award function was held in Cochin City hosted by OISCA Cochin Branch. Trophies were distributed during the ceremony by Mr. K.V. Mohankumar IAS, President of OISCA South India Chapter.
Most Inspiring OISCAn Award:  Dr. R. Surendran, Calicut Branch
Most Committed OISCAn Award: Prof. K. Suresh Babu, Palakkad Branch
Best Chapter:  Palakkad Vanitha Branch
2nd Best Chapter: Aluva Branch
Best Chapter President: Mr. Balan Master, Vadakara Branch
2nd Best Chapter Presidents: Mr. Sudheer Panicker, Aluva Branch and Mr. Sai Krishnan,    Kalpetta Branch
Best Chapter Secretary: Mr. Thomas Stephan, Kalpetta Branch and Mrs. Reshmi Kishore, Calicut Branch
Promising Chapter: North Paravoor, Chapter, EKM Branch
Inspiring New Chapter: Kondotty Branch
Special Recognitions:
1. Dr. Suresh Kumar, Palakkad Branch
2. Mr. P. Hemapalan, Calicut Branch
3. Mr. Kt. Sebastian, Thiruvambadi Branch
4. Mr. Dencil Poppen, Calicut Branch
Formed in 1961, the OISCA South India Chapter is one of the strong pillars of OISCA International. With its commitment to educate the youth in terms of environmental conservation and protection, the OISCA South India Chapter is supporting more than 1,700 schools through the OISCA`s Children`s Forest Program.
Recently, the members of the OISCA International Board approved the chapter`s eight new branches.
Gallery