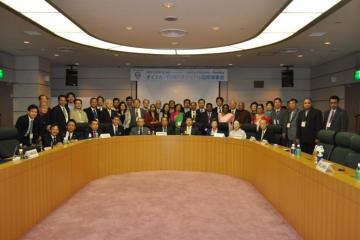 Oct 25, 2013
Attended by 50 representatives from the 12 countries and territories where the national chapters of OISCA are located, the two-day annual board meeting was held in Kumamoto, Japan on October 11 and 12.
Prior to the actual meeting, Hon. Ikuo Kabashima, Governor of Kumamoto and Mr. Fuminori Marumoto, President of OISCA Kumamoto Branch mentioned in their welcome speeches that hosting this year`s meeting is an opportunity for their province to create linkage to the rest of Asia.
On her keynote speech, Dr. Yoshiko Y. Nakano, President of OISCA International, emphasized the importance of "altruism" or selflessness as one of the virtues imbibed by the pioneer members of OISCA as they were dispatched in the developing countries to help improve the quality of life of the people.
Angela Marie Tayco tackled the roles of OISCA Chapters through her presentation of "Think Globally, Act Locally" reflecting on the Coastal Forest Restoration Project of OISCA Japan in the area damaged by the March 11 disaster in Tohoku Region. The roles of OISCA Chapters were further pointed out by Professor Ryokichi Hirono as he mentioned the importance of addressing the needs of the community people, involving every individual members of the chapter in the dissemination process, involving the youth and the cooperation and mutual trust developed when all the members act and work together.
Meanwhile, the board approved the proposed 9 new local chapters of India, proposed membership fees adopted from the World Bank Economy Reference and the formation of a Finance Committee to support the activities of OISCA International with the members namely:
1. Mr. Yunoshin Kuroda (Representative to China and Chairman of OISCA Ltd)
2. Mr. Ferry Joko Juliantono (President, OISCA Indonesia)
3. Mr. Yopie S. Batubara (Board of Director, OISCA Indonesia)
4. Mr. Fuminori Marumoto (President, OISCA Kumamoto)
5. Mr. Toshio Kuriya (Vice President, OISCA Kumamoto)
6. Mr. Koji Yamada (Secretary General, OISCA Kumamoto)
7. YBhg Datuk Ibrahim bin Ahmad (Vice President, OISCA Malaysia)
8. Hon. Alfredo G. Maranon, Jr (President, OISCA Philippines)
9. Dr. Chen, Chiung-Sung (President, OISCA ROC Taiwan)
As closing remarks, Toshihiro Nakano, Executive Vice President of OISCA International encouraged the members of the board to continue on supporting the organization towards its centennial celebration.
Gallery