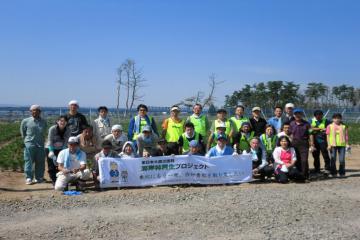 Sep 30, 2013
On September 20 and 21, OISCA organized group tours for on-site observation and weeding work at its nursery of black pine seedlings on the coastal area of Natori City, Miyagi Prefecture which sustained heavy damage by the Great East Japan Earthquake in March 2011. About 60 volunteers from various supporting private companies and organizations participated in the event. Some of them came all the way from Osaka or Hamamatsu.
On the first day, the volunteers assembled at JR Sendai Station and transferred by an OISCA-chartered bus to the Arahama District of Sendai City where some 15 different NGOs and NPOs planted pine tree seedlings utilizing a variety of methods at a pilot site last November. High-ranking officials from the Forestry Agency and the Miyagi Prefectural Government briefed the tour participants on the current conditions of the seedlings planted and challenges ahead.
Then the volunteers visited the Natori coastal area where the mound building works have been conducted by the Forestry Agency as part of the overall disaster recovery project. OISCA, in cooperation with the disaster-affected local residents, are expected to start tree-planting activities after the mound is completed sometime in early spring of 2014. Afterwards, the group observed the contiguous site of the tide embankment improvement project being carried out at a fast pace by the Ministry of Land, Infrastructure, Transport and Tourism.
In the afternoon, the volunteers moved to the OISCA nursery where the first batch of black pine seeds were sown in late March 2012 and currently 70,000 seedlings are steadily growing. Under the blazing sun, the temperature exceeding 30 degrees Celsius on the field, they braved to help painstaking weeding work under the guidance of the OISCA field manager and diligent local farmers who are members of the Association for Coastal Forest Restoration in Natori City.
On the second day, a new batch of volunteers joined the weeding work and toiled until late afternoon. Many of them admitted that it was their first time to experience the grueling field work, but they were greatly inspired to continue their support of the OISCA project.
With a view to starting full-fledged tree-planting next spring, OISCA has been in close consultations with the relevant national and local government bodies on concluding formal agreements for the implementation of the 10-year Coastal Forest Restoration Project.
Gallery