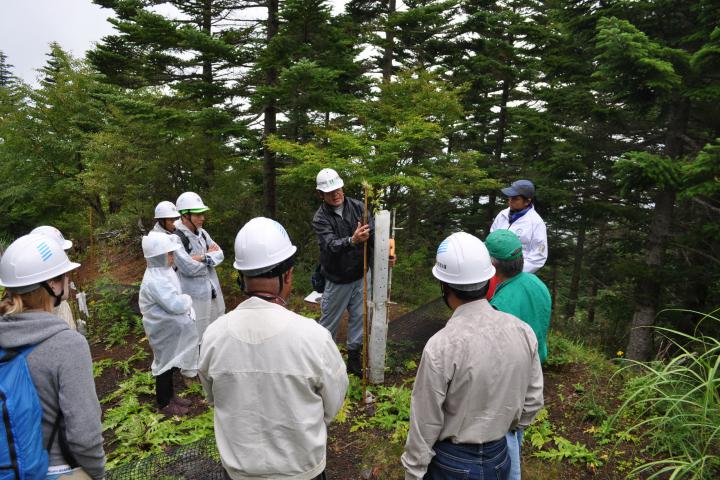 On the 1st of September, OISCA International organized an event of putting individual nets to secure and protect the local species of seedlings planted three to five years ago from being damage by wild deer in the 1,500 meter elevation of Mount Fuji.
With the active participation of the 150 people, including the diplomats, representatives of the different private companies who have been supporting the project since its inception, and OISCA International members, staff and trainees, a total of 1,500 plastic nets with a diameter of approximately 32 cm and height of 170 cm were installed under the assistance and guidance of forest experts.
The Mount Fuji Restoration Project which started five years ago has an ultimate goal of restoring the loss biodiversity of the mountain after been plagued by insects due to the monoculture planting of Abies veitchii locally known as shirabe trees. Putting of nets could ensure the survival of the planted seedlings under the project in the 38.4 hectares site.
Through the initiative of Mt. Fuji Restoration Council, a committee led by OISCA International consisting of researchers, funding agencies and the local government of Yamanashi Prefecture, the project is hoping to contribute to the locals who are aiming Mount Fuji to be included in UNESCO`s World Heritage List.
A goal that somehow been felt and expressed during the event`s closing ceremony by His Excellency Mr. Gabriel John Klero DUSAVA, current Ambassador of Papua New Guinea to Japan despite his limited time of involvement to the project.