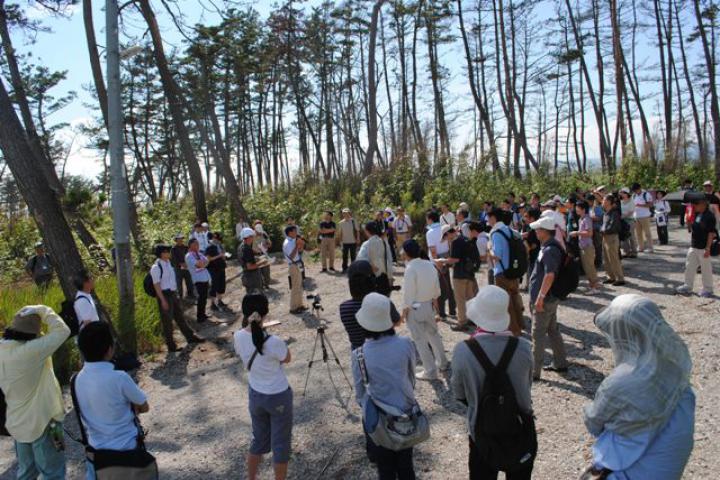 Sep 15, 2012
On the 15th of September, OISCA organized a five-hour tour to allow the 80 participants, mostly members of the different companies supporting the Coastal Reforestation Project in Natori City to have a deeper understanding on the objectives of the project.
The 7 kilometer tour course done on-foot was established to give the opportunity for the participants to be exposed and have a closer assessment on the impact of tsunami to the former coastal vegetation near Sendai Airport.
Following the lead of Mr. Toshimichi Yoshida, the overall coordinator of the project; listening to the testimonial of the local victims of the disaster who happened to be one of the core members of the project and the explanations of Dr. Kunihiro Seido, forest expert and OISCA Adviser; and Mr. Koichi Sasaki, project site`s person in charge, the OISCA`s goal of the immediate restoration of the former coastal vegetation was somehow successfully conveyed to the participants.
"Without the black pine trees planted several meters away that absorbed the impact of the tsunami, my house might also been totally washed-out", is the welcome statement of Mr. Eiji Suzuki, President of the Association for the Coastal Forest Restoration and owner of the only house left standing after the tsunami near Sendai Airport.
The finale of the tour is a visit to the established nursery to show to the participants the development of the project after almost one year since it was started. The participants were asked to write their own messages to the distributed wood chips and were hanged on the nursery nets.
Gallery