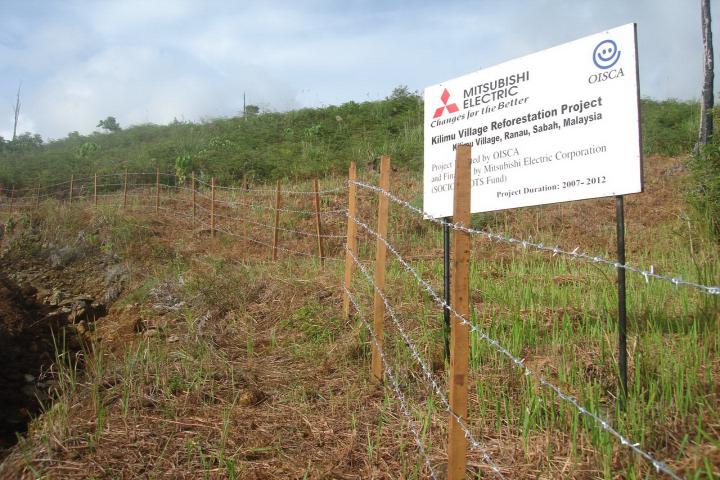 OISCA KPD spearheaded by Mr. Maritus Santing organized putting of fence in cooperation with the 26 local people on the reforestation site supported by Mitsubishi Electric Corporation under the SOCIO ROOTS Fund in Kilimu Village, Ranau, Sabah. The five year Kilimu Reforestation Project, mainly planting of Azadirachta excelsa locally known as sentang and rubber trees is now on its fourth year since the project started in 2007.
The 6.5 acres planting site was a former clearing where wild deer and stray animals are accustomed to grazing. Located in an open area adjacent to mountains with still intact vegetation, the growing shoots and tender leaves of the seedlings are vulnerable from being eaten by wild animals. Triggered by this problem, the villagers headed by Mr. Peter Ignatius felt the need to install barbed wires to prevent further damage.
Moreover, in preparation for the dry season, 6.7 meter wide fire breaks on the boarder of the planting site was maintained using heavy machine excavator to protect the planted seedlings from wildfires.
Other than tree planting, OISCA KPD is conducting workshops annually with the sole objective of encourage the participation of the Kilimu Villagers through environmental education. OISCA KPD also introduced the concept of "Mori no Tsumiki Hiroba" or Environmental Education using Wooden Blocks targeting the village children.
Having experienced several aftermaths brought by the damaged forest in Sabah, the villagers are looking for donors to support another planting site in Kilimu.