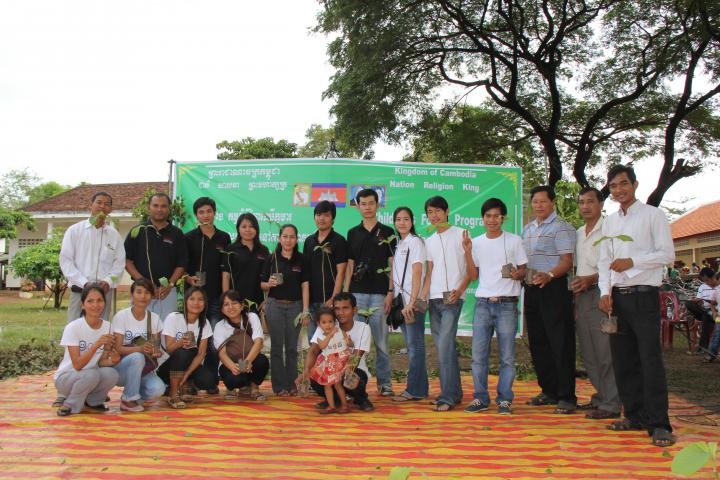 The Memorandum of Understanding (MoU) between OISCA-Cambodia and Buddhism for Social Development Action (BSDA) was signed early this year between Mr. Charles Cheo, OISCA-Cambodia President and Venerable Thorn Vandong, Executive Director of BSDA. BSDA is a local NGO based in Kampong Cham where OISCA Children Forest Program is based and currently being implemented.
Effective for two years, the MoU will enable both OISCA Cambodia and BSDA to cooperate on projects that will be beneficial to the communities particularly the CFP. Under the MoU, OISCA will extend the coverage of CFP into more communities through utilizing the network of BSDA.
Since 2009, a total of six schools in Kampong Cham have been benefitting from the environmental conservation and protection campaigns of OISCA under the CFP activities. Mr. Chhourng Sovanna and Ms. Chann Dany, OISCA CFP Coordinators in Cambodia have been organizing annual tree planting to the schools so that the students can have a hands-on experience in environmental conservation and to familiarize themselves on the existing local species of trees of Cambodia.
Other than the tree planting, the CFP Coordinators are also organizing environmental education workshops among the students using the strategies he acquired from attending the CFP Coordinator Workshops organized by OISCA Headquarters in Thailand and Indonesia. To involved further BSDA in CFP activities, Ms. Keng Sinon of BSDA and currently working as volunteer for the CFP and Mr. Sovanna underwent one month of training in Thailand last February.
/news/default.aspx?nid=97