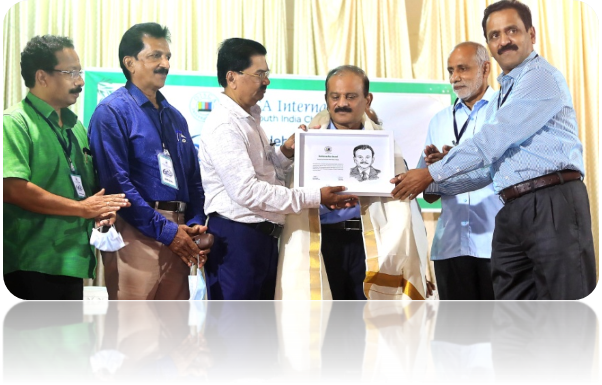 January 7, 2022
The 60th Anniversary of OISCA International was celebrated in a fitting manner with various programmes in South India.
Children's Convention, Poster making competition, presenting awards for excellence to individuals & chapters of OISCA and conferring the prestigious OISCA 'Karmashreshta Award' to Dr. N. Krishnakumar IFS(retd.) in the presence of dignitaries and benefactors  of OISCA at Tagore Centenary Hall, Calicut on 7th January. 
The programme began with an invocation and lighting of the ceremonial lamp.
The Children's Convention on CFP was inaugurated by Sri. A. K Shaseendran, Hon 'ble Minister for Forest and Wild life, Government of Kerala. In the course of his Inaugural address, he pointed out the inefficacy of the existing system to protect Mangrove forests. Deforestation is the greatest threat to the future, the Minister said. He also emphasized the need to make small forests and forest parks and then added that children should be made to nurture the saplings distributed by the Forest department, on environment day every year. As part of the programme Asoka saplings were distributed among the students. 
The celebration of the 60th anniversary was inaugurated by Dr. N.Krishnakumar IFS [retd], President of OISCA South India. In his speech he elaborated on the varied activities of OISCA South India-days like Earth Day, Water Day, Mountain Day, Wet land Day, Forest Day and Environment Day were observed and how even during the pandemic more than hundred webinars were organised and state and national level to educate youth and others on bio-diversity, pollution, solid waste management and SDGs Goals. He then explained the way in which we could work on Chapter initiation, activationof existing chapters and projects for social enterprise.He stated that OISCA has to go miles and miles and work with the Government on issues like water conservation, climate change and Carbon credit. Dr. Krishna Kumar exhorted the OISCAns to spread environmental awareness by creation of more Chapters, strengthen the Youth forum and Women's forum and to make effort to increase the visibility in the Southern States. 
OISCA Karmashreshta Award presented to Dr. N. Krishnakumar IFS [retd] by Sri M. Aravindababu, Deputy Secretary General, in recognition of his meritorious service to OISCA. 
This was followed by the presentation of prestigious awards to Senior officials of OISCA South India for their contribution to the growth of OISCA. The awards of excellent performance were bestowed upon the Chapters and individuals. 
The highlight of the programme was poster making competition for school students on CFP, students presented their creative posters and the best ones were given cash awards. The memorable event concluded with each promising to uphold the vision and continue the mission OISCA International.